Volunteers Plant Hundreds Of Trees At Borders Wildlife Reserve
---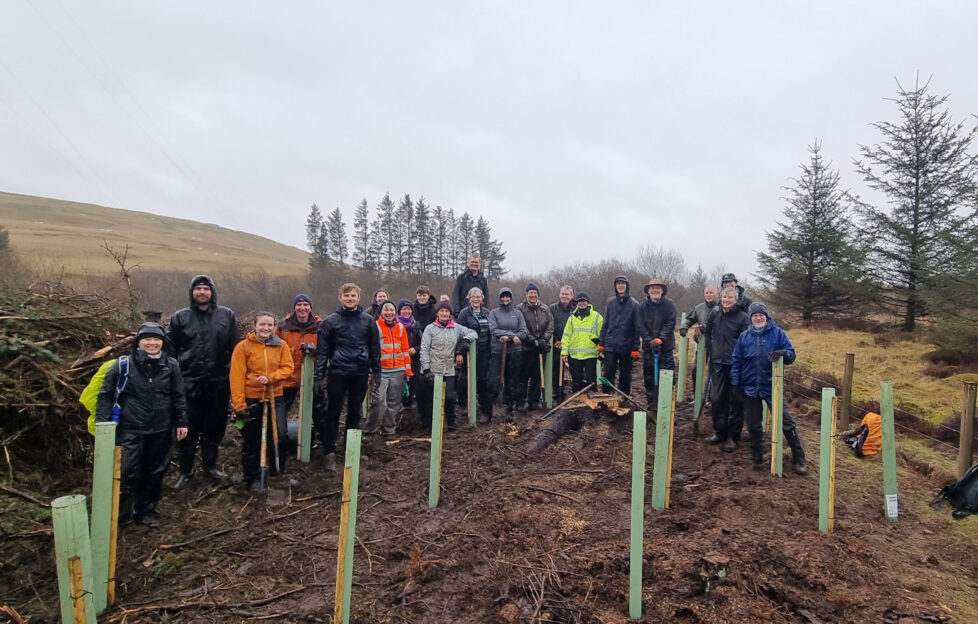 Volunteers have planted 500 native trees at the Scottish Wildlife Trust's Hare Moss Wildlife Reserve near Selkirk…
Goat willow, grey willow, alder, hazel and hawthorn saplings were planted on the site of a Sitka spruce plantation which was felled at the end of 2021. These native trees will grow to form broadleaf woodland that supports wildlife including birds and butterflies.
The trees were planted by volunteers from the Scottish Wildlife Trust's Central Borders Group, the Borders Forest Trust and the University of Edinburgh.
This work supports the Scottish Wildlife Trust's aim to increase the amount of semi-natural habitat at Hare Moss.
Julian Warman, the Scottish Wildlife Trust's Reserves Manager for South East Scotland said: "This is an exciting project that builds on work we've carried out to create new native woodland at Bemersyde Moss and Pease Dean Wildlife Reserves.
"The woodland will support a wide range of wildlife as it develops. Birds such as willow warblers, goldeneye and yellowhammers are likely to benefit. We'd also hope to see more emerald and large red damselflies, as well as comma and small heath butterflies."
Reserve Convenor Alison Smith said: "The tree planting went incredibly well with a fantastic turn out of enthusiastic volunteers. Despite the difficult weather conditions, the satisfaction of being part of such a sterling effort could be seen on everyone's faces. It's a great feeling to get so much closer to the long-term goal of providing new semi-natural habitat on the reserve."
Michelle Stamp, Woodland Engagement Officer, Borders Forest Trust said: "It was great to be able to get Borders Forest Trust volunteers involved in the project. This was a good opportunity for different groups to work together at an important site for wildlife to help restore native woodland."
Hare Moss Wildlife Reserve is two miles south of Selkirk. The lochan in the centre of the reserve attracts wildfowl throughout the year. Visitors can enjoy watching birdlife from a hide that sits on the edge of the water.
You can read more about Scottish wildlife from Jim Crumley's columns online here, and each month in The Scots Magazine.
Subscribe to The Scots Magazine today for more   >>