Tom Weir | Walking Points
---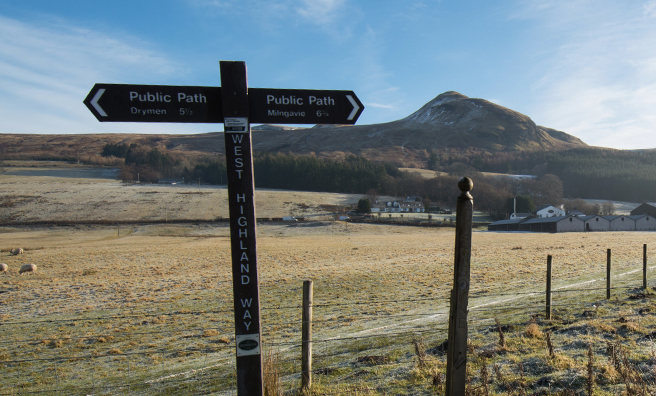 FOR the official opening of the West Highland Way in October, the weather could hardly have been worse. Floods, a cold, gale-force wind and battering rain.
Instead of a procession to the top of the wee hill above Bahmaha to hear Lord Mansfield proclaim Scotland's first long distance path officially open, the assembly had to pack like sardines into what was meant to be the tea tent pitched for the occasion adjacent to the car park.
When I arrived there was a rare sight, the tightest square of humanity you could pack into a marquee, their massed weight squelching the water out of the sodden ground and transforming it to glaur, while the beating drum-roll of rain rattling on canvas drowned the voice of Dr Jean Balfour of the Countryside Commission welcoming her guests.
To hear or see anything you had to be a lot closer than I was, and to snatch a cup of tea and a sandwich afterwards was only slightly less difficult than transferring the prize to mouth in the melee.
But it was good to see so many outdoor friends, and congratulate the Countryside Commission representatives in person for the sensitive way the route had been laid out, with the minimum of signposts, especially on the difficult stretch between Inversnaid and the head of the loch.
My wife and I had tested this just a week or two before, and were delighted to find ourselves on a path that had been created by the feet of walkers, winding easily where there used to be tangles of fallen trees and other obstacles to crossing gullies.
We knew how tortuous this section used to be. You had just to barge through as best you could, sometimes descending to the loch-shore, sometimes climbing.
The path-builders had worked out a good line, removed the obstructions, and left it to those who follow the clearings to stamp out the trail.
They've done a good job, too, at a burn which pours over rock slabs, by building a little staircase to an easy crossing place a hundred feet higher up, with incuts to steady the feet for the steep descent back to the shore path.
Catch the next excerpt next Friday!
---
More From Tom…
We have an extensive archive of Tom Weir's great columns for The Scots Magazine, and we're slowly but surely getting them published digitally for new generations to enjoy.
To see the columns we have online so far, click here.