A Wee Shetland Adventure – Mareel
---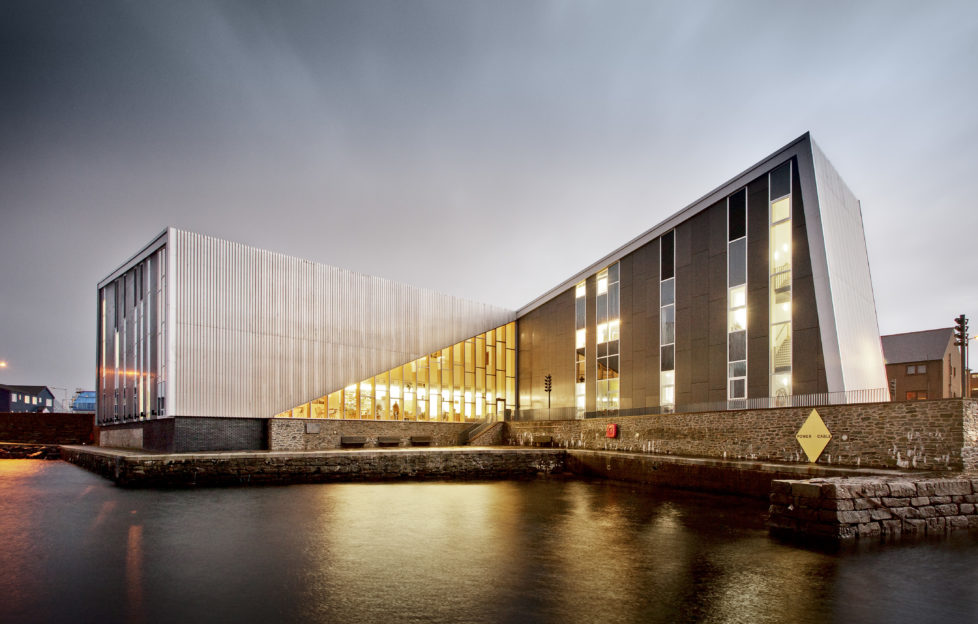 Pic credit: PhatSheep Photography
We take a trip to Mareel, Shetland's multi-purpose entertainment venue located on the waterfront of Lerwick, the capital of Shetland…
According to the Shetland dictionary, the word mareel means phosphorescence seen at sea, or the giving off of or shining with light.
Mareel, Shetland's state-of-art multi-arts venue, is indeed a shining light and a beacon for artists both local and from further afield.
Before the facility opened in 2012, Shetland boasted a strong musical tradition. It still does, but Mareel provides an extension to the cultural strings of the islands by providing a permanent two-screen cinema that shows around 2500 screenings a year, professional recording and teaching facilities and a world-class auditorium that is a boost for performers and audience alike.
There is also a digital media production suite, broadcasting facilities, exhibition spaces and a café bar.
The listings on the "What's On" page of the Mareel website covers everything from film, music, drama, dance and visual arts and crafts.
And (prior to COVID-19 restrictions) even the café gets involved, with open mic nights and a monthly film quiz.
The cinema has been a particular success. "We are the most successful cinema in the country by head of population selling around 80,000 cinema tickets to a community of fewer than 23,000 people," says
Graeme Howell, chief executive of Shetland Arts.
"At the time of opening, we strived to deliver something very different to what was currently provided in Shetland, from the experience in the café through to attending a gig."
Like many organisations, outreach and education are a high priority.
"Up to June of this year, we have hosted and delivered to more than 50 students studying film and music. We offer vocational pathways for younger students still at school and anyone wanting to study full or part-time with us can take degrees, such as National Certificates or Higher National Certificates.
"We also teach on a masters course and have delivered to students in Brazil and Sweden. It's great having the students as part of the organisation, as they bring a lot of life and energy to Mareel, and we get to watch them develop their skills through the three student showcases at the end of each term.
"Our outreach covers everything from youth arts to well-being, we also have an extensive formal education offering in partnership with the University of the Highlands and Islands."
Shetland Arts also run the Garrison Theatre in Lerwick, and the Bonhoga Gallery at Weisdale Mill. They also own The Booth on Scalloway, a waterside studio and accommodation space that offers artists residencies. Such is its popularity, it's often booked up a year in advance.
For more information on Mareel and Shetland Arts, go to
www.shetlandarts.org
Discover more of what Shetland has to offer such as this series of stunning walking routes >>