What's On The Menu at 10th Edinburgh Foodies?
---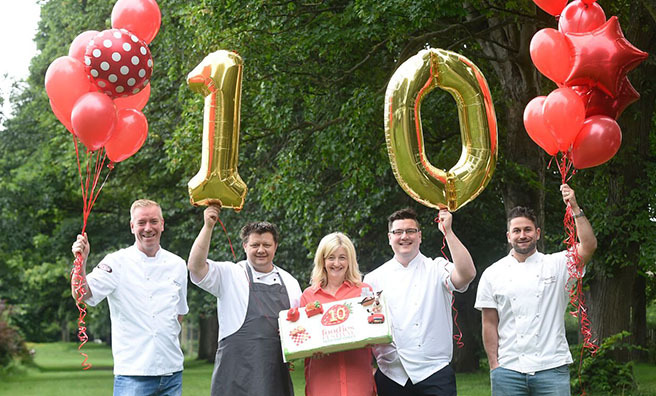 Edinburgh Foodies Festival celebrates in the city's Inverleith Park on 7,8 & 9 August
Following the success of last year's Edinburgh Foodies Festival – which welcomed 34,000 foodies – organisers are expanding the festival site by 50% to celebrate the flagship event's 10th anniversary in style.
This will provide space for new food and drink theatres, an extended Producers Market and a huge selection of street food, to showcase Scotland's finest culinary talents and regional produce.
Bee Keeping, Oyster Shucking, Sushi Making and Foraging are just a few of the hands-on masterclasses festival-goers can try in the new Tasting Theatre.
Chocolate addicts can get an instant hit of cocoa with 'How to Sniff Chocolate like a Rockstar' lessons from Coeur de Xocolat in the Cake & Bake Theatre, which also hosts local bakers offering 3D cake modelling, Chocolate Making and Sugar-Craft masterclasses.
Food and drink expert masterclasses
The Chocolate, Cake and Bake Village is a paradise for home bakers, filled with the latest gadgets and baking essentials, while a new Wine, Champagne and Craft Beer Theatre invites foodies to take food and drink matching masterclasses with experts Charles Metcalfe, Neil Phillips and beer expert Melissa Cole.
Gin and Whisky masterclasses are also available, with a daily cocktail-making competition between local bars to find Edinburgh's Best Mixologist.
The Aga Rangemaster Chefs Theatre welcomes Michelin-star, celebrity and top local chefs including Jamie Scott, MasterChef: The Professionals 2014 winner and one of the stars of the July issue of The Scots Magazine.
Over 200 artisan producers
In celebration of the Year of Food and Drink Scotland, the Producers Market has been extended to showcase Scotland's natural larder and abundance of quality produce, featuring over 200 artisan producers selling award-winning cheeses and condiments, jams and bakes, confectionery, cured meats and more.
An extended Street Food Avenue serves up a huge selection of hot and cold dishes from around the world, including cuisine from Japan, Thailand, Brazil, Argentina, India, Mexico, France and Africa.
The BBQ Arena is perfect for fans of outdoor cooking with daily 'King of the Grill' cook-offs. Or for those brave enough, the famous Chilli Eating Competition challenges entrants to try and break last year's record of 14 varieties of chillies eaten without a drink to win the Chilli Eating Crown.
A day of feasting and fun
Little foodies can explore their taste buds and learn basic cooking skills with Picnic in the Park themed masterclasses in the Childrens Cookery Theatre, where Kiddy Cook will show them how to make finger sandwiches, jellies and chocolate bugs.
After a day of feasting and fun, foodies can relax and soak in the atmosphere with live music from the entertainment stage and a refreshing cocktail, glass of bubbly, a Pimm's or a mojito.
Tickets on sale now at www.foodiesfestival.com, where you can see the full line-up of chef appearances and masterclasses.
We'll see you there!