Where are Scotland's Butterflies?
---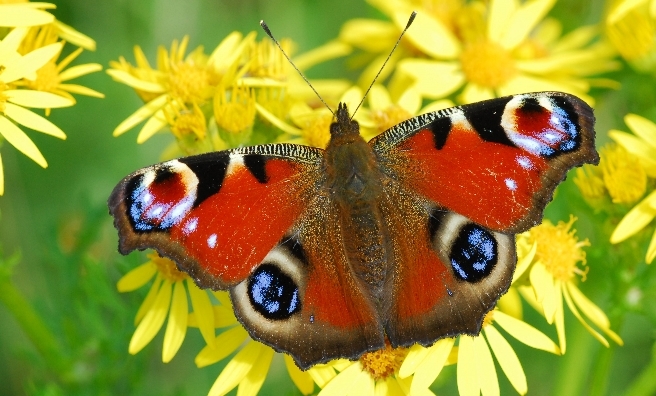 A stunning Peacock butterfly. Photo by Jim Black
As summer comes to an end, residents of towns and cities are being asked to keep their eyes peeled for Scotland's butterflies.
Mid-August is typically peak season for our favourite and most brightly-coloured butterflies such as the Peacock, Small Tortoiseshell and Comma but this year, wildlife charity Butterfly Conservation Scotland has received very few sightings.
The soggy summer has been blamed for holding back the appearance of the summer generation of butterflies that hibernate over winter as adults.
'The wet weather has simply delayed their appearance'
"We have received very few records of these species despite the fact that urban areas are real havens for them," said Anthony McCluskey of Butterfly Conservation Scotland. "We are hoping that the wet weather has simply delayed their appearance, which are normally seen in much greater numbers in July and August."
The Peacock, Small Tortoiseshell and Peacock are some of the most familiar species of Scotland's butterflies, as they are very often seen in gardens and parks. They lay their eggs upon nettles and thistles, and adults drink nectar from a wide range of garden plants such as Buddleia and Sedum.
Send in sightings of butterflies in urban areas
Butterfly Conservation Scotland's Urban Butterfly Project, a three-year project funded by Heritage Lottery Fund and Scottish Natural Heritage, covers the Central Belt and has been training volunteers to carry out greenspace butterfly surveys this year.
Members of the public are being asked to send in sightings of Scotland's butterflies in urban areas to help researchers see how butterflies are faring in our towns and cities and inform Butterfly Conservation's habitat creation work, which volunteers can also help with.
For more inforation or to complete a butterfly survey, click here.
---
Butterfly Conservation
Butterfly Conservation is a UK charity, with more than 30,000 members including more than 1,500 in Scotland. The charity works closely with local communities, landowners, the Scottish Government, Scottish Natural Heritage and other partners to safeguard Scotland's butterflies and moths and their habitats by:
Advising landowners;
Carrying out surveys, monitoring and research;
Training volunteers;
Making recommendations to the Scottish Government;
Encouraging everyone to cherish and enjoy butterflies and moths.