The Braemar Gathering
---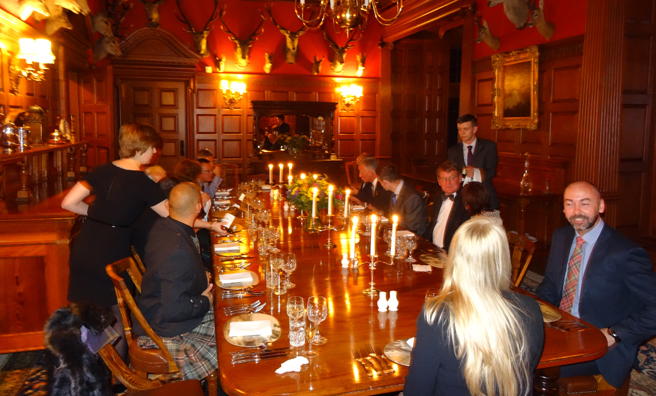 Dinner at Mar Lodge
A visit to the Braemar Gathering is like a glass of the finest malt – one you've had a taste, you want more! Such an analogy is pertinent as I spent a marvellous weekend in Braemar as a guest of William Grant and Sons, whose beverages of the Balvenie and Glenfiddich were never in short supply.
There were two highlights to the weekend – the Gathering itself and a marvellous dinner in Mar Lodge, a National Trust for Scotland property on the banks of the Dee and within hailing distance of the Linn of Dee, Glen Derry and the Lairig Ghru. The lodge has been refurbished back to its original glory and, with apartments to lease, is the ideal base for walking and climbing (www.nts.org.uk/Property/Mar-Lodge-Estate) .
The food was provided by the Craigellachie Hotel and was absolutely top-class, with a dram of specially-bottled Glenfiddich providing the perfect ending to a perfect meal.
Our hostess for the weekend was Grant's Royan Graham, whose hospitality knew no bounds and who was responsible for the logistics of the weekend which ran, more or less, as smoothly as possible.
The Gathering was in danger of being a wash-out as rain was persistent almost from the word go. When one experienced campaigner said that the Queen never arrived when it was raining, I kept my own council, expecting the Royal brolly to be used in earnest. However, Her Royal Highness must have some special connections as the rain stopped and the sun shone almost directly on her arrival!
However, in between times, the competitors – ranging from diminutive sack-racers to caber-tossing muscle-men – refused to let conditions dampen their spirits as the Games progressed.
A great day out was had by all!