Whisky Month!
---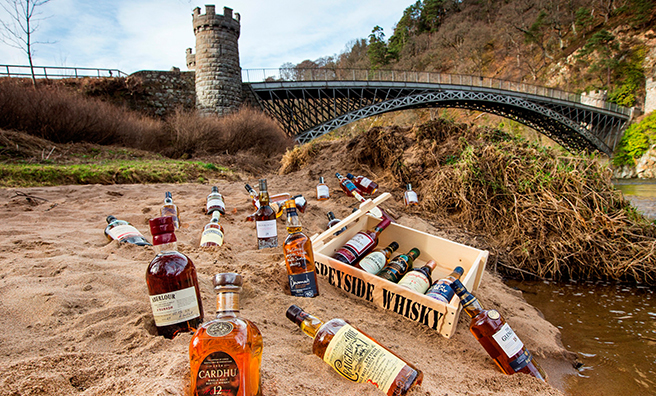 Whisky Extravaganza at the Spirit of Speyside Festival
So starts another exciting season for Scotland's tourism industry. With accolades flowing in from international sources and records being broken in every department, we are booming as international travellers continue to place Scotland at the top of their to-do lists.
While I'm delighted to see the renewed appeal of Scotland thanks to certain TV shows and clever marketing, it's the enduring strength of our traditional assets that really get me going. Correct, I'm talking about whisky again.
My previous ramblings have covered the basics of early introductions to our national drink, and this time of year presents a first class opportunity to take things up a notch. May is Whisky Month, and it starts with the annual spring Spirit of Speyside whisky festival.
"The heart of whisky magnificence"
Going straight to the source you may say, this is arguably the heart of worldwide whisky magnificence, and whisky connoisseurs are soon to be descending en masse to the dozens of distilleries on offer in the geographical golden triangle wedged between Aberdeen, the Cairngorms, and Inverness.
Speyside is home to some of the world's household names in this field. Glenlivet, Glenfarclas, Macallan, Balvenie and more. It's a veritable Hollywood for whisky lovers and with spring comes Oscar season. While boasting similar characteristics, each malt and distillery have their own distinguishing identifiers. Telling them apart is where the fun comes in. Rich, delicate, spiced, sweet, fruity are all typical Speyside malt attributes… but subtle differences abound.
Mass gatherings like this are the perfect place to educate yourself, and maybe even show off a little. The same goes for the personalities of the distilleries themselves. From the first sighting of the distillery pagodas in the distance to the smells, sounds and charm of the interior of a working distillery, this is as Scottish as it gets.
Speyside has long been home to illicit whisky mischief. Tucked away within remote valleys, entrepreneurs have been at this game for centuries, often under the radar of the tax man in the early days.
And the heart of this magic is the mighty River Spey, its pure waters are the reason why around half of Scotland's vast number of whisky houses are based here.
With an official Malt Whisky Trail for visitors to join, the distilleries in Speyside are just begging to be explored. From the tales of humble origins at Cardhu to the eye-popping on-site store at Glenfiddich (where your credit card takes on a will of its own), it's quite a journey.
The Spirit of Speyside Festival takes place over the course of several mouth-watering days every year, this year falling on the April 27 to the May 1. With an endless array of events being held there is something for every budget and every level of interest and knowledge.
As well as presenting an unrivalled opportunity to sample some of the more exclusive drams in circulation, the festival gives you a rare chance to see the inner working of numerous distilleries that are often closed to the general public.
I hope to see you there (or at least 'in spirit' on social media) and until then I wish you slàinte mhath for whisky month!
---
Spirit of Speyside
For more on the Spirit of Speyside Festival, pick up a copy of The Scots Mag's May issue for a piece by our whisky expert, Euan, in his regular column Slàinte Mhath.
Follow Neil, here, for more whisky and walking updates as he treks around Scotland!