A Tribute To Harry Sir Lauder
---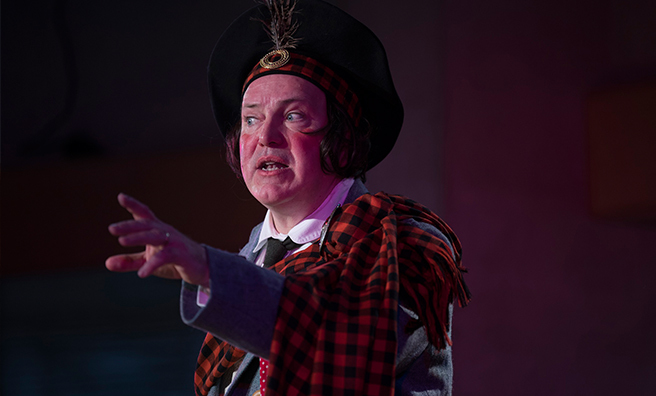 Scottish Opera's warm and affectionate tribute
to one of the Theatre Royal's biggest stars
As part of the 150th anniversary celebrations for Glasgow's Theatre Royal, the curtain opens on Scottish Opera's three-day tribute to one of Glasgow's earliest music stars, Sir Harry Lauder.
Lauder is an adaption of Jimmy Logan's A Play With Tunes, and features many of Harry's most popular songs.
Scottish tenor and BBC broadcaster Jamie MacDougall stars as Sir Harry Lauder. This week he admitted to The Scots Magazine that he has some rather large shoes to fill!
"Oh my goodness, yes!" chuckles Jamie. "He might have only been 5'4, but he certainly had big feet!"
The First British artist to sell a million records
Sir Harry Lauder rose to fame in 1905 in the Theatre Royal's pantomime Aladdin, and went on to tour his own one-man show in music halls around the world, becoming the first British artist to sell a million records.
Jamie has been performing Lauder's infectiously cheery songs for years now, and enjoys the audience reactions to them – not matter where he performs them.
"I've had the great fortune to sing these songs all over the world, and even if it isn't an English-speaking audience, the songs are still infectious. People will smile and nod their head along. Harry really had that ability to capture an audience with a good tune."
Following his son's death during active service, Lauder set up the Harry Lauder Million Pound Fund for Scottish soldiers returning from the war, and some of Jamie's favourite moments to perform is showing how Lauder sings through his grief, and turns it into something incredible – raising a fantastic sum of money for those in need.
"There's a moment when he recalls a song that he thinks is his son's favourite, Somebody Waiting For Me, that's a very touching, poignant song. Everybody remembers Harry as a cheeky chappy with lively numbers, but that song just sums the whole character up for me.
"I've said it a few times – to raise that sum of money during The Great War and at that time is incredible… it makes Band Aid look like chicken feed!"
Even almost hundred years after he stopped performing, the name Sir Harry Lauder still resonates with many in Scotland, but Jamie is looking forward to introducing his legacy to the next generation, too.
"I think there's a new generation that can now, and should know Harry. He was the first global star – the first superstar. His story needs to be heard by a new audience and I hope that I do what I can to share this story."
Catch a sneak peek at Jamie MacDougall in Lauder below.
---
See it live!
You can catch the limited run of Lauder at Glasgow's Theatre Royal until Saturday, December 2.