Andrew Cotter in Twenty Questions
---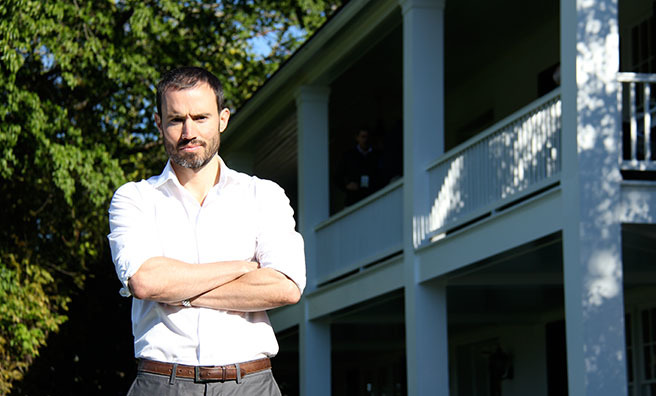 We set Andrew Cotter a quick-fire round of twenty questions when we caught up BBC Commentary team at The Open…
Where did you get the golfing bug?
The whole family played golf and being born and brought up in Troon meant there was no shortage of courses or motivation.
First Open experience?
Apparently I was taken to the Watson/Nicklaus "Duel in the Sun" Open at Turnberry when I was four. The first I remember was Tom Watson's win at Muirfield in 1980.
First Open commentary?
Troon, in 2004. Seve Ballesteros was a co-commentator. It was a thrill to work with him.
What's so special about the Open?
It's history, simple as that. To think that every tournament is continuing a lineage stretching back to 1860 is quite astounding.
Is it the ultimate test?
Because it is played on links courses, a far greater variety of shot is called for. That combined with the weather does make it the ultimate test.
Who's your tip to win?
I wouldn't be surprised if Rickie Fowler contends. He's a very creative player who doesn't get bothered if the wind blows.
Who was your favourite golfer(s) as a boy?
Seve Ballesteros and Tom Watson. Seve, because he made golf appear glamorous and exciting, Tom, because at one point he was King of the Open.
…and now?
I've no real favourites, although both Rory McIlroy and Martin Kaymer aren't only great golfers, they're really great blokes too. Intelligent, engaging and interesting.
What's your favourite Open course?
Troon, because of home loyalties. But St Andrews is special because it finishes in the heart of the town.
Do you have a favourite fellow commentator?
I always liked Barrie Davies because he was so elegant. But you need a bit of humour and Peter Aliss has the perfect light and shade.
Which hole is harder: the Postage Stamp at Troon or the Road Hole at St Andrews?
The Postage Stamp seems far easier but its dangers are more subtle. And for a very short hole you look silly if things go wrong!
Pre-commentating meal?
Anything. Probably not seafood, though. Best not take the risk!
Is there a downside to commentating?
Not really, although the amount of prep required before each event is the unseen, less glamorous side of things.
What's the funniest thing you've seen from the commentary box?
Possibly during the show-jumping part of the Modern Pentathlon in the Beijing Olympics. Some of the horsemanship wasn't of the best, and one competitor sat helplessly as his mount just went and stood in a corner!
What's your greatest attribute?
My sense of humour.
And your biggest failing?
Far too many to list!
Do you think £950,000 is too much for an Open win?
Not really. It's the greatest achievement in the game and that sort of money is just market value. Just compare it to Lewis Hamilton's £100 million three-year contract and £200 million for one fight for Floyd Mayweather.
Favourite other sport?
It has to be rugby, but I've commentated on anything from tennis to the boat race. My grandfather played rugby for Scotland in the 1930s.
If you're not commentating, how do you relax?
Hillclimbing. I developed a real passion when I was based in London. I get out to the hills as much as I can.
Are you taking a holiday after The Open? If so, what is your favourite no-sporting destination?
Yosemite in California or somewhere around Chamoniz or Zermatt. In the UK, it has to be either Skye or Torridon.
---
Mair golf…
Click here to read our interview with the man Andrew Cotter calls the "King of the Open", golfing great, Tom Watson.
Our July issue has some great content on The Open with a tour of the Old Course, a focus on St Andrews and an interview with Marc Warren on the Scottish Open, too. Click here to get your copy in print or digitally (with a free set of Scots Magazine golf balls with every subscription!) or through the Readly app store, here.