The Atholl Gathering At Blair Castle
---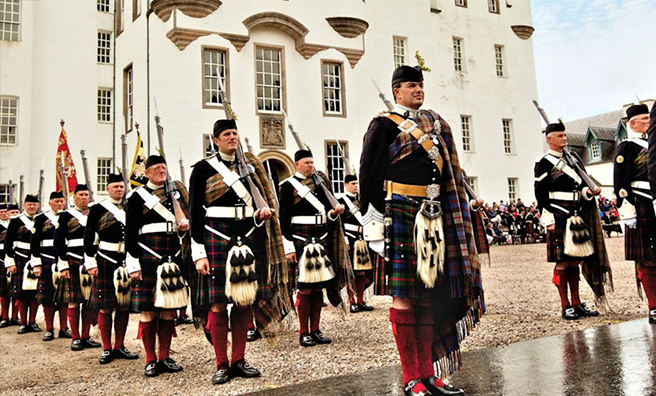 Discover Blair Castle and explore a fascinating piece of Scotland's history!
Visit on the May Bank Holiday weekend (May 27-28) and you will be just in time for the Atholl Gathering weekend, which takes place at the end of May every year.
The two-day event kicks off on the Saturday with the Atholl Highlanders' Parade followed by the Highland Games on Sunday.
You can discover more about the fascinating history of the Atholl Highlanders at a morning talk then enjoy the annual parade in the afternoon.
Europe's Last Remaining Private Army
The historical talk takes place in the castle's grand ballroom, and will explain how the regiment was granted its colours by Queen Victoria, as well as the history and tradition behind the annual parade.
The annual inspection of Europe's last remaining private army begins at 2.30pm, as the army parades on the forecourt of the castle, accompanied by the stirring sound of the pipes and drums. It is a truly memorable experience for everyone involved, harking back to Scotland's rich cultural heritage with flair, spectacle and pride.
The gathering will take place the following day, with the Highlanders officially opening proceedings. Heavyweight strongmen from around Scotland will take centre stage to battle it out in the games, which includes traditional events such as caber toss, shot put, and hammer throw.
For more information on either the parade or the gathering, contact the Blair Castle offices on 01796 481 207 or visit www.blair-castle.co.uk