Introducing BLiSS Sculpture Trail
---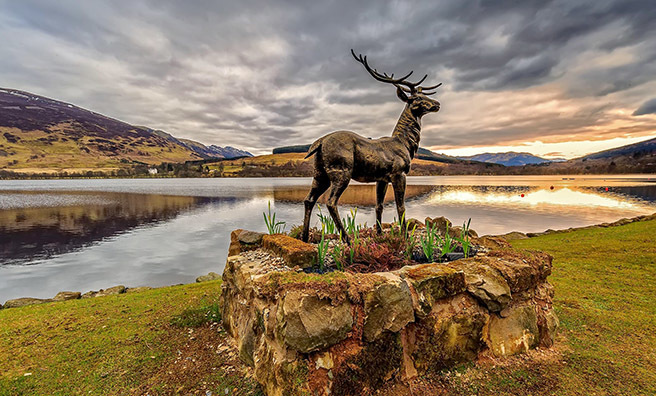 Unique sculptures are popping up all across
Rob Roy Country as part of a new BLiSS trail
BLiSS stands for the four villages linked by the trail – Balquidder, Lochearnhead, Strathyre and St Fillans, with the "i" standing for both tourist information and the innovation in Scotland's Year of Innovation, Architecture and Design.
Officially launched last week, the trail is the latest venture by the Loch Earn Tourism Information group (LETi) and features 13 stunning sculptures and installations from local artists and architects.
A group of third year art students from Perth College, University of The Highlands and Islands, is also taking part by developing a conceptual art team project as part of a new degree course.
Sculpture Highlights
One of the most eye-catching of the installations is the life-sized, multi-coloured metal bull crafted by Kev Paxton, the artist behind Edinburgh Airport's iconic towering thistles.
Mirrored cube, The Lookout, on the other hand, might be more difficult to spot – it was designed Angus Ritchie and Daniel Tyler to blend seamlessly into the landscape, while providing a great view point.
Other sculptures include an "Airliephant" (if you visit please get back to us to let us know what it is), a miniature mill house, a stag, a soaring eagle, commemorative bicycle seats, and a totem pole halfway marker.
The official trail postcard (top right) shows the different sculpture locations – and a further map on the BLiSS website has added ideas of where to stop for coffee/lunch/cake. Perfect.