Bloody Scotland Shaping Into A "Bloody" Good Festival!
---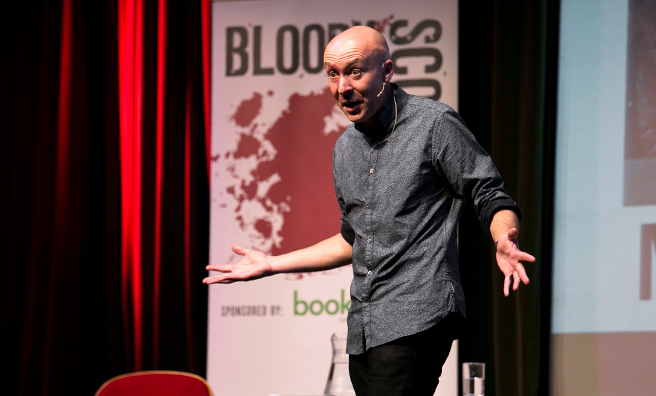 Excitement is building for Bloody Scotland International Crime Writing Festival
The crime fiction festival is forecast to have another record-breaking festival with twice as many tickets sold on launch day as in 2016 – Bloody Scotland's biggest attendance to date.
This year's fest will open on Friday, September 8, with a reception at Stirling Castle, followed by a torchlight procession led by Ian Rankin.
Rankin, one of Scotland's best-loved crime writer, is celebrating the 30 years of Inspector Rebus novels since the first, Knots and Crosses, was published in 1987.
Another Scots Mag favourite, Val McDermid, is also celebrating 30 years in publication since her first novel Report For Murder. Both authors are in the longlist for the McIlvanney Prize, and are set to host special events at Bloody Scotland.
McIlvanney Longlist
Excitement is continuing to build for this year's festival as organisers announce the longlist for the McIlvanney Prize for the Scottish Crime Book of the Year. The list features a diverse range – from established favourites to debut writers – and showcases the best of modern crime fiction in Scotland:
Lin Anderson – None But the Dead (Macmillan)
Chris Brookmyre – Want You Gone (Little, Brown)
Ann Cleeves – Cold Earth (Macmillan)
Helen Fields – Perfect Remains (Harper Collins)
Val McDermid – Out of  Bounds (Little, Brown)
Claire MacLeary – Cross Purpose (Contraband)
Denise Mina – The Long Drop (Random House)
Owen Mullen – Games People Play (Bloodhound)
Ian Rankin – Rather Be the Devil (Orion)
Craig Robertson – Murderabilia (Simon and Schuster)
Craig Russell – The Quiet Death of Thomas Quaid (Quercus)
Jay Stringer – How to Kill Friends & Implicate People (Thomas & Mercer)
The shortlist will be revealed at the beginning of September, and the winner will be announced at Bloody Scotland's opening ceremony.
---

Tickets are now on sale for the 2017 festival, which will feature talks, interactive workshops, crime quizzes, and a fierce football match to compete for the Bloody Cup!
---