Cash Boost For Tom Weir's Rest
---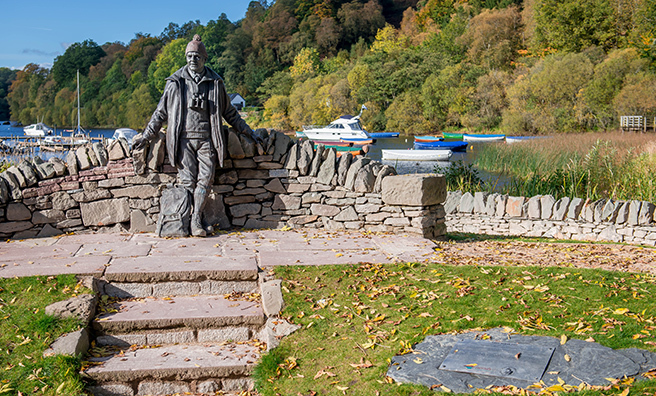 Exciting new plans for Tom Weir's Loch Lomond Wonderland following £10,000 cash boost
The Heritage Lottery Fund has awarded the Friends of Loch Lomond and The Trossachs group £10,000 towards development of the statue site, Tom Weir's Rest, and the group are already planing some exciting new attractions.
Commenting on the award, Friends Chairman James Fraser was delighted to have this opportunity to share Tom's love of the local area.
"We intend to build on the resounding success of his statue and the associated greatly improved picnic area that is on target to host 80,000 visitors this year."
Five storyboards are currently being finalised for placement on the site: two duplicates at the site entrances on the Tom Weir's story and three others on the Nature of the area, the History of Balmaha Bay, and Tom and Rhona's Mountain Garden.
Three of these panels have now been signed off for production and feature quotes from Tom's articles in the The Scots Magazine, most prominently from his "My Loch Lomond" and "The Walker's Wonderland" 1976 columns, which can be read in full online, here.
Further developments include additions to the Mountain Garden, which is currently being planted with 1,200 heathers reflecting the colours of the four seasons, mountain thyme, rowan trees, birch trees and ferns. White quartz from Ben Lomond, slate from the Highland Fault Line, and red sandstone from a nearby quarry will also decorate the garden, beside two large slate slabs engraved with quotes from Tom's columns.
The garden and new storyboards are due to be completed in the spring, where Tom's widow Rhona and members of the Friends and The Scots Magazine team will take part in an official opening ceremony – so check back for updates!