Christmas Cake Recipe
---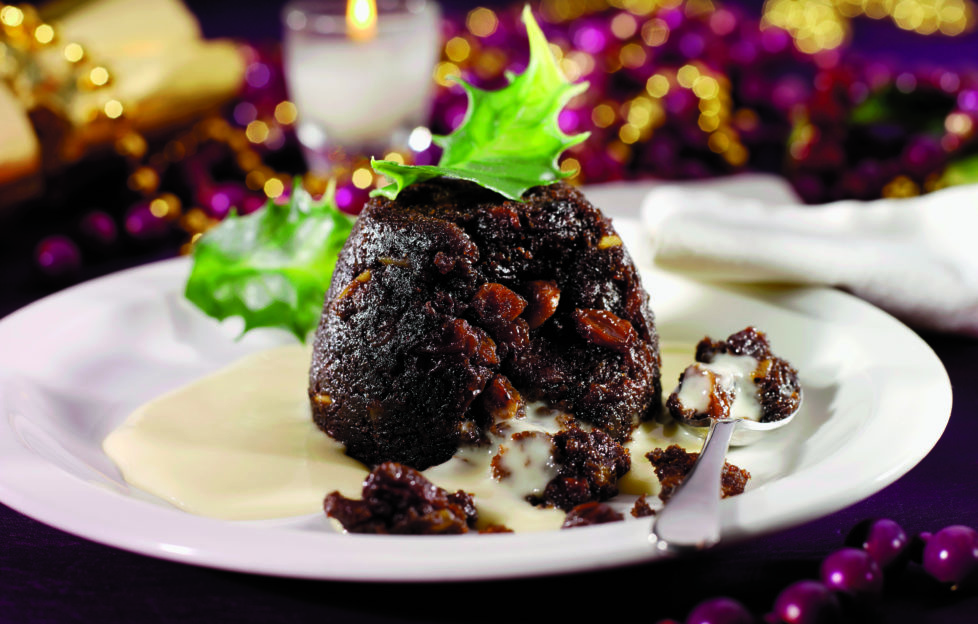 Christmas pudding with custard. Pic credit: StockFood
INGREDIENTS (Serves 6-8)
400ml cold water
250g golden caster sugar
125g unsalted butter
3tbsp treacle
2tbsp ground cinnamon
2tsp ground cloves
½tsp ground mixed spice
750g dried seedless muscatel raisins, soaked overnight in brandy or marsala
150ml brandy, marsala wine or Glengoyne 10 YO to soak the raisins (reserve the spirit to treat your cake if you're making it)
450g plain flour
3tsp bicarbonate of soda
A pinch of fine sea salt
Granulated sugar
A dash of brandy to set alight
METHOD
Soak the seedless muscatel raisins overnight in the brandy or marsala.
Place the water, sugar, butter, treacle, spices and fruit into a large pot and stir. Very slowly bring it to the boil. Switch the heat off and allow the mixture to cool. It is vital the mixture is cool, but not cold, before you add the sieved flour, bicarbonate of soda and salt into the mixture. Stir well – this needs a bit of elbow grease.  
Generously butter a large 1kg pudding bowl or plastic basin with lid. Mummy always placed a circle of baking parchment at the bottom of the bowl to stop it sticking when you turn the pudding out.
Fill the bowl, cover with another circle of baking parchment and then either use the plastic matching lid or wrap a double layer of foil and parchment around the pudding and tie tightly with string.
Choose a large pot that the pudding will fit in and allow space to half-fill with water. Place a saucer at the bottom of the pot – an insurance policy in case you forget to top up the water half way through the steaming.
Steam for about three hours. On Christmas Day, repeat the steaming process and serve flaming with sugar and brandy and lots of lovely homemade custard.
Credit: Credit: Carina Contini is owner of Contini George Street; Cannonball Restaurant & bar; and The Scottish Cafe & Restaurant, all in Edinburgh.
Top Edinburgh chef Carina takes a festive break from her restaurants – to spend time cooking a Christmas cake for her family instead
BUON natale a tutti – merry Christmas to all! I love Christmas. I think it stems from the two days of the year that my parents closed the cafés. My seven brothers and sisters, parents, grandparents and our fairy godmother Margaret were all at home.
There was laughter, the occasional tear or two, treats, new pyjama days, visiting relatives, bubbly drinks and loads of delicious homemade, once a year, dishes!
There are many dishes that I only make once a year. Turkey is the obvious one, but the stuffing, roast chestnut sprouts, creamed nutmeg carrots, prawn cocktail, mince pies, pigs in blankets, caramel oranges, trifle – plus all our Italian classics like homemade alla guitara pasta and crustella – it's no wonder I only do it once a year!
There is usually enough food to last us a lifetime when you start listing it.
However, it's all part of the celebration, the rituals that have been handed down as a rite of passage and a sign that we love sharing time with our family. Christmas really is the easiest and best time to do it.
Serves 6-8
Victor and I want our children to have the same happy memories. We close all the venues for Christmas Day and Boxing Day and that alone is the best Christmas present ever. This year I'm making the family Christmas pudding. My grandmother started the tradition, handed down to my mother who this year, at 87, is being let off the hook.
Christmas pudding is made with dried fruits, mixed peel, glacé cherries and spices. Our recipe features 100% seedless muscatel raisins. It's intense and indulgent and for all of these reasons is called a Yum Yum pudding, so good they named it twice!
I leave all my mixed peel and glacé cherries for the Christmas cake. I'm one of those lucky cooks that has an Aga. Slow baked for at least eight hours, this cake can be made a few weeks before Christmas and still be heavenly. Lovely when it's made and baked in Victor's grandmother's cake tin, this tin is first wrapped in several layers of newspaper so it doesn't become too brown
around the edges.
Made this way, our cake, with a generous soaking of 10 Year-Old Glengoyne, will be a party showcase for all those visiting family and all those cosy nights in front of the fire enjoying the moments that are our children's future happy memories.