Coffee Cake And Pecan Tray Bake
---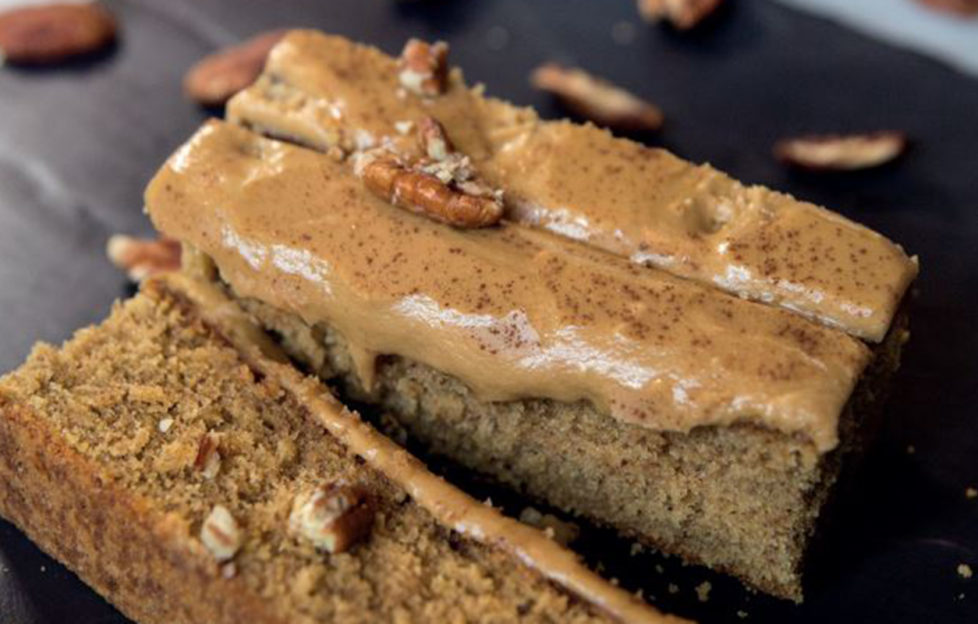 For Cake
225g unsalted butter, at room temperature
225g light brown sugar
2 large eggs
200g self-raising flour, sieved
1tsp baking powder
50g ground pecans, plus some extra halves to decorate the slices of traybake once you've cut it
2 shots of espresso, or 2tsp instant coffee, dissolved in 50ml hot water
For Frosting
300g icing sugar
50ml double cream
50ml espresso, or 2tsp instant coffee, dissolved in 50ml hot water
Credit: Carina Contini
Carina's Coffee cake is an office favourite with The Scots Mag team…
We've tried this coffee and pecan cake various times over the years – and it's just keeps getting more and more delicious.
This traybake often makes the perfect office cake as a late morning or afternoon snack.
It always boosts our spirits and caffeine levels, especially on a Monday morning. So give it a go!
Method
Preheat the oven to 180°C/350°F/Gas 4. Line the base of two deep 20cm non-stick cake tins with greaseproof paper.
Cream butter and sugar in a bowl until light and fluffy. Add one egg at a time with a little of the flour to stop the mixture curdling, then add remaining flour and baking powder.
Fold the ground pecans and espresso gently into the mixture, and pour evenly into your baking trays.
Bake in the preheated oven for 30 minutes until risen and golden. Remove from the oven, turn the cakes out and cool on a rack.
To make the frosting, beat icing sugar, cream and espresso together in a bowl until light and fluffy. When the cakes are cool, remove paper and place the sponge on a board or plate.
Spread the frosting on top, then carefully cut the cake into even slices of your chosen size. Decorate each slice with a pecan.
Explore our recipe section for more tasty treats from Carina's kitchen  (CLICK HERE)