Winter Warmer – Scotch Broth Recipe
---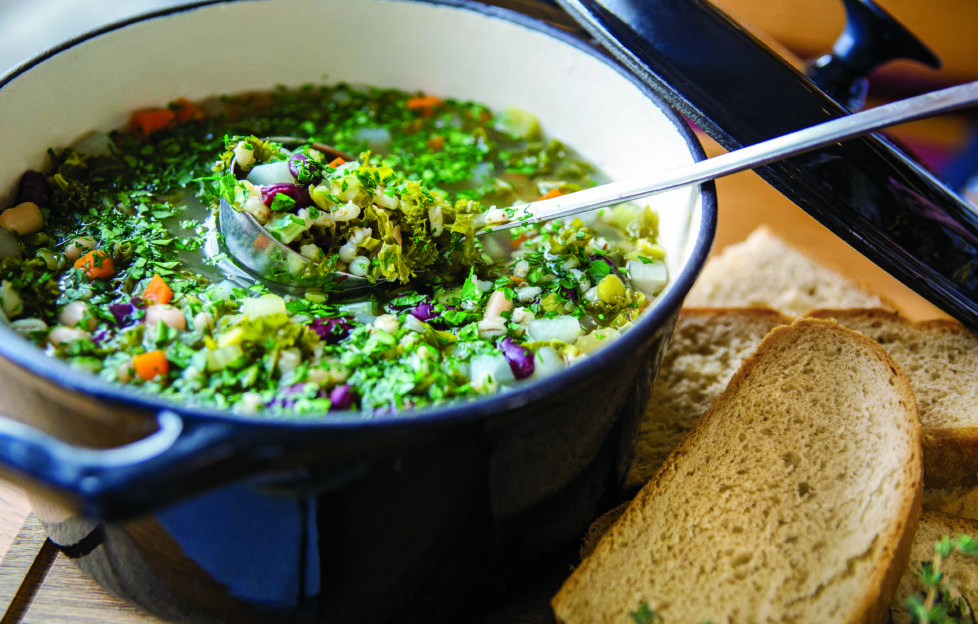 Ingredients
200g of dried pearl barley
200g of dried mixed beans, soaked overnight in plenty of cold water
2 carrots, washed, peeled and chopped
2 onions, peled and chopped
1 baby turmip. washed, peeled and chopped
2 leeks, trimmed, washed, and chopped
200g of curly kale, washed and chopped
2 litres of hot mutton or vegetable stock
Garlic & Rosemary Pesto
1 close garlic
1 teaspoon salt
1 handful rosemary leaves, finely chopped
3 tablespoons of extra virgin olive oil
Method
Rinse the beans in fresh water, add to pot of cold water and bring to the boil. Drain the beans.
In a separate pot, bring the stock to the boil and reduce the temperature to a simmer. Add the beans with the barley.
Add all the vegetables, except the kale.
Simmer for at least 1 hour until the beans are tender.
Add the chopped kale, cook for another 10 minutes until the kale has "dissolved" and the soup looks thick. Check the seasoning.
Finally, cream together the pesto ingredients using a pestle and mortar. Use the oil to obtain a lovely, smooth consistency. Add a tablespoon to the soup just before you serve.
Credit: Carina Contini
In between the excesses of the festive season, we need something simple but tasty!
HANDS up who eats too much in December?
Every year we say we'll resist, we'll just have a little, one glass will be fine… but oh no, we don't listen and it all goes straight to our hips – or to Victor's tummy! I do love him cuddly.
So we're back to dieting. I'm going to admit I'm not as bad as I've been in previous years. I've cut grains from my diet since June on doctors orders and I've never felt better. I've eaten more and more vegetables than ever to bulk out the space vacated by the grains and although I'm eating so much more, I've not been piling on the pounds.
Over the summer I do feel as if I could be vegetarian. There are many who suggest that we should all be vegetarian. In order to provide a sustainable world food system we should be eating less meat but we still should be eating a balanced diet.
Consumption Awareness
A tragic 11% of the world's population is hungry, eating less than the recommended daily calorie intake of 2000. Yet estimates say between one third and a half of all food produced is wasted. We know western culture is the biggest culprit. We eat, buy and bin too much.
I do think we are more aware now, though. There are a number of television programmes dedicated to showing us how much money we waste. With all our pockets tightened over the last few years, too, we've had to move towards being less wasteful.
Supermarket bulk buying and the dreaded date codes have driven us to a fear of not getting a bargain, but do we need three because we get one free even though we only wanted one in the first place? We're seeing through the marketing, and being forced to recycle and separate our waste at home does make us all think more.
Restaurants have been doing this for years, and we are very conscious of this in our restaurants. We have changed our menus accordingly to manage portion sizes so guests get just the right amount per dish. In the past our portions – and prices – were bigger but we've reduced to align with our own habits and by watching what gets wasted.
The Scottish Café & Restaurant was the first gallery restaurant in the UK to achieve a three-star rating from the Sustainable Restaurant Association. This body looks at sourcing, environment and the social aspect of a restaurant.
The moral of the story is we all need less waste – for our trousers and for our planet.
Everything in moderation always serves us well. The little bit of barley in this delicious soup will give me a good boost for January and made in advance with any extra boxed and frozen veg there will be no waste from this pot that's for sure.
Carina Contini is Owner of Contini George Street, Edinburgh; Cannonball Restaurant & Bar, Castlehill, Edinburgh; and The Scottish Cafe & Restaurant – located at the gardens entrance of the Scottish National Gallery, Edinburgh.
Find out more at www.contini.com
See more of Carina's recipes for us 

here

 and discover a new one each month in
The Scots Magazine