Culinary Islay
---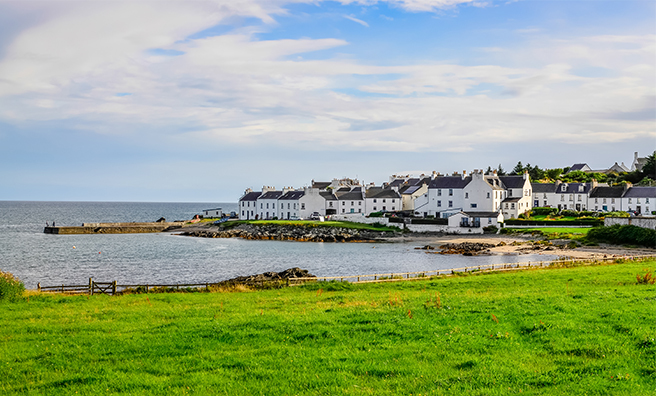 Kay's just back from touring the culinary trail of Islay, the southernmost island in the Inner Hebrides
When I say Islay, you think whisky.
This could be the start of a terrible Honey G-style rap, where I shout 'ISLAY' and you shout 'WHISKY', but we'll just stop right there.
Islay is associated with whisky before anything else, given the high concentration of world famous distilleries on a relatively small land mass. I'm not here to talk about the whisky though, and would instead like to shine a spotlight on the island's culinary offerings.
As is standard on islands, the captive market is often subject to a lack of variety and an excess in price.
I can't say that this is untrue of Islay, but there are places which are worth the splurge.
Whether it's to line your stomach before the compulsory drams, nurse the inevitable hangovers, or to indulge in something other than whisky, here are four places your taste buds will thank you for.
---
The Harbour Inn, Bowmore
It's clear the islanders have adopted a simple, say-it-as-you-see-it naming culture for their restaurant businesses. This lovely little Bowmore eatery is located just a couple of boat lengths away from the town's harbour.
The menu is not extensive, which helped with the ease of decision making! I had oysters to start, with the essential lemon, cracked pepper and Tobasco for extra kicks.
The crab tagliatelle with lime, chilli and mascarpone was absolute perfection, as was the immaculately presented strawberry and shortcake dessert.
Afterthoughts: The portion sizes left a lot to be desired, particularly given the price tag. Nevertheless, a lovely treat and the best food in Bowmore without doubt.
---
The Ballygrant Inn, Ballygrant
Given that it was awarded 'Scottish Whisky Bar of Year', and boasts a whisky selection in excess of four hundred, the Ballygrant Inn's food offering could be something of an afterthought. That is certainly not the case, however. It's a real hidden gem.
Both the whiskies and food came strongly recommended by our host Jim from the Dha Urlar B&B, so we stopped by for lunch after several drams at the nearby distilleries. The quality and presentation of the dishes was fantastic, in particular the Stornoway black pudding topped with oozing goats cheese. I can also recommend the warming and flavoursome tomato and basil soup.
Afterthoughts: I'll be back someday to sample the dinner menu!
---
The Port Charlotte Hotel, Port Charlotte
With serene views of Loch Indaal, a crackling open fire, an impressive food and whisky menu, and regular live music nights, it's no wonder the hotel bar is packed with locals and visitors alike. The hotel restaurant offers a more formal – and very expensive – dining experience, so we opted for the bar menu instead.
I ordered guinea fowl as my main; my first taste of this particular wee bird. Served with roasted crushed sweet potato, piri piri spices, and a mango salsa, it was a wonderful introduction and a very satisfying dish. The sticky toffee pudding to follow was one of the nicest I've had.
Afterthoughts: Eating out on Islay sure isn't cheap.
---
Old Kiln Café – Ardbeg Distillery, Ardbeg
The Ardbeg Distillery is one of the most aesthetically pleasing I've seen.
The friendly café is alive with a chorus of chatter from tourists, and locals who know too well how good it is. I ordered the haggis and red onion marmalade baked potato, and requested some Scottish cheddar too, just for good measure.
I'm not usually inspired by a baked tattie, but I must've had a hunch I wouldn't be disappointed. I'm a devout haggis lover, and this haggis was plentiful, spicy and delicious. Much better than the bland haggis dish I had served in the Lochside Hotel in Bowmore.
This was the best value of the eateries I visited, with simple dishes executed beautifully.
Afterthoughts: What a shame this place is only open from 12.00 – 16.00.
---
Do you have a favourite Islay eatery? Were there any little gems that Kay missed? Let us know below, or on Twitter or Facebook!
---
More From Kay
The Scottish Islands are Kay's favourite places in the world, and Islay was the fifteenth isle she's visited.