Caught Between Two Worlds – Diana Gabaldon Interview
---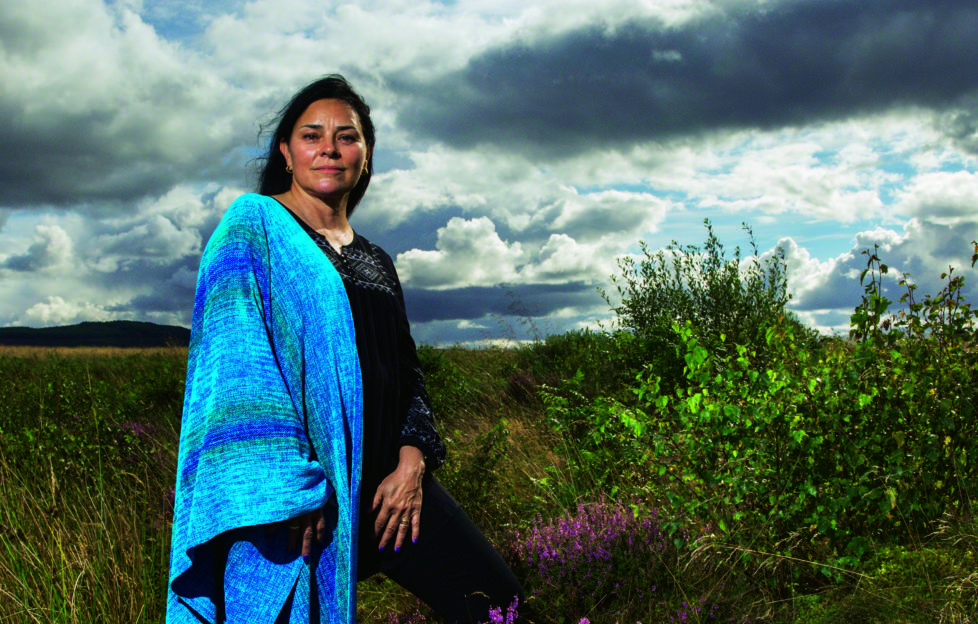 Diana Gabaldon, writer of the best-selling Outlander books, in Culloden 22th August 2014 Photograph by Robert Perry/Writer Pictures WORLD RIGHTS
Diana Gabaldon reveals the inspiration behind her Outlander series…
IT'S all Doctor Who's fault. Years ago, when Diana Gabaldon was looking for an idea, she couldn't resist the image of a kilted Scotsman on an episode of the popular television series.
Until that point, she had written primarily non-fiction, like a 400-page dissertation on nest site selection of the Pinyon Jay, and technical articles in Science Software Quarterly, a journal she founded in 1984 while an assistant professor at Arizona State University. It paid the bills, but didn't ignite her soul like writing fiction, which she'd wanted to do since childhood.
"Why not Scotland in the 18th century?"
The leap from academic journals to time-travel in the Highlands is not as huge as you'd imagine.
At a recent Outlander fan retreat held in Seattle, Gabaldon told me how she moved from zoology and computer science to the Battle of Culloden.
"I was just looking for a time and place in which to set a historical novel because I wanted to practise writing one. I wasn't going to show it to anyone, let alone get it published, so it didn't really matter where I set it. I saw this young man in a kilt and thought that was quite fetching, so why not Scotland in the 18th century?"
Why not indeed?
A Decisive Conflict
The 1700s were years of upheaval and struggle in Scotland. In the Doctor Who episode that inspired her, the good doctor befriends and rescues piper Jamie McCrimmon during the aftermath of the Battle of Culloden. This decisive conflict was the culmination of years of political and social turmoil throughout Britain and signalled the end of an era for Highlanders in Scotland.
It also marked the end of the Jacobite risings. This series of rebellions aimed at restoring the House of Stuart to the throne of Great Britain after it had been deposed by Parliament during the Glorious Revolution. All this is great fodder for novels, as authors like Sir Walter Scott, John Prebble, and D K Broster had demonstrated.
Was there room for more, and how would Gabaldon's story be different? Enter Claire Elizabeth Beauchamp, a spirited and decidedly 20th-century English army nurse working during the Second World War. Try as she might, Gabaldon could not convince Claire to conform to 18th century ways.
"I fought with her for several pages, trying to beat her into shape and make her talk like an 18th century person, but she just kept making modern remarks and started telling the story herself. So I thought, go ahead and be modern, and I'll figure out how you got there later!"
With Outlander, Gabaldon forged a gripping story of a woman caught between two worlds. Claire is a woman who is trying to decide between the husband she loves and whom she left behind, and the Highlander she grows to love.
"I don't know exactly where it will end or how.
As I work on each book, it's organic"
Gabaldon's colourful cast of characters illuminates her story, but even great characters need to be in believable situations to bring a story to life. This is where Gabaldon's writing shines. Her education – degrees in zoology and marine biology and a PhD in behavioral ecology – and early career were tailor-made for the historical novel genre. This is a writer who knows how to do research.
"I was a university professor and all of my degrees were in the biological sciences, so I did know my way around a library. That's why I decided on historical fiction. It seems easier to look things up than to make them up. If it turned out I had no imagination, I could steal things from the historical record!"
After sharing parts of Outlander with an online writer's forum, Gabaldon eventually secured an agent, and in 1991 the book was published. It was the first of a series that now includes nine major novels, with spin-off novellas, companions and even a graphic novel. When asked how or when she'll eventually end the epic story of Claire and Jamie, the author is forthright.
"I never try to run my stories! I don't plan or outline the books out ahead of time, and I don't know exactly where it will end or how. As I work on each book, it's organic."
An International Following
Gabaldon's Outlander series has developed an international cult following with readers flocking to hear her read from her stories or recount her journey as a novelist.
"One of the most impressive side-effects of these books is the instant sense of community and enthusiasm that springs up around them," Gabaldon says. "The fans get into it big time!"
At the fan retreat organised by publisher Random House in promotion of book eight in the series, hundreds of excited fans mingled, their fervour palpable and their enthusiasm infectious. One fan has read the series three times and is still hungry for more.
"When you read something that draws you in and you're part of the story, you get hooked."
Another got into the stories recently and is picking up the latest book in anticipation. "For me the detail makes it real. Her ability to build her characters is astonishing."
Online, the community around the books is even more enthusiastic. Dozens of fan sites and social media hotspots are dedicated to all things Outlander. Many fans have adopted the label "Sassenach," a word that literally means outlander or foreigner, and more specifically, an English person. Although traditionally a derogatory term, it becomes a term of endearment Jamie often uses in reference to Claire.
And as for the Starz TV adaptation of her novels…
"I couldn't be happier with the quality of the production and the care they take with the story. It's an adaptation, so it isn't exactly like the book; because the series is episodic, some things need to be adjusted so you get an overall arc. Most of what I've seen is original to the books and recognisable material. They've done a wonderful job."
Shooting the series in Scotland adds to the authenticity, as well as attention to detail with costumes and props. Since Gaelic figured in Highland life so much during the time period, it also figures prominently in the show, and a Gaelic coach was on set during filming to ensure good pronunciation and delivery.
In turn, the cast members are teaching fans through a series of entertaining video lessons. It all adds up to great promotion of Scottish history and culture.
If you're new to the world of Outlander, now's a great time to jump in. As Gabaldon explains, the books are all related to one another in integral ways.
"The first and second books are essentially one piece dealing with the Jacobite Rising. The third book makes a trilogy, dealing with the aftermath of the rising."
Subsequent books change the locale to the New World. This mirrors the fate of many Highlanders after Culloden and during the Highland clearances.
"Looking back at the first six books, you get to see how they're linked together. The Jacobite rising was the distant echo and beginning of the tinder keg that was the American Revolution."
---
Discover more Outlander secrets with our new bookazine