DragonQuest!
---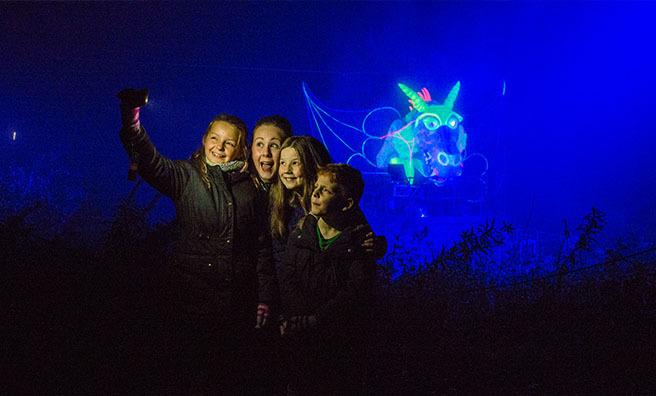 The forest of Monikie Country Park is being illuminated in a mystical spectacular this October
Monikie's answer to Perthshire's Enchanted Forest sees the country park's dark woods illuminated and invaded by all manner of magical creatures in what is the first ever use of Augmented Reality (AR) in a live theatre performance.
Vision Mechanics (the team behind Drift) have created the original story-telling event where fictional 'scientists' from DragonQuest, 'Dan' and 'Petra', will demonstrate cutting-edge technology that allows visitors to see dragons, spy on fairies and hold a pegasus in the palm of their hand.
Interact with magical creatures
The Vision Mechanics team of designers, along with Animation graduates from Duncan of Jordanstone College of Art and Design, Dundee (DJCAD), has created sets and illusions to wow family audiences.
Alongside the more traditional elements of woodland sound and light shows, a DragonQuest App is available for smartphones or tablets, which works with the device's camera to reveal a hidden world of magical creatures.
The technology will be the first ever use of Augmented Reality (AR) in a live theatre performance, allowing visitors to capture themselves interacting with the weird and wonderful creatures.
Tecnophobes shouldn't be put off, though!
"DragonQuest is not just about being tech-savvy," said Symon Macintyre, Artistic Director of Vision Mechanics.
"It's a great story of romance, magic and mystery that you, as an audience, discover as you walk in the woods on an autumn evening. With or without a smartphone, DragonQuest is an event for the whole family."
Dragon Scarers
Since some of the magical creatures being brought to life can be rather dangerous, local schools and youth groups have been asked to create 3.5 metre totem poles called Dragon Scarers to protect surrounding communities from any roaming dragons that escape the confines of the woods!
Keep an eye out for them safeguarding the areas around Monikie Country Park in October.
The sound, light and digital show itself goes live on Wednesday, October 7, until Sunday, November 1.
For ticket information for DragonQuest and available dates, click here.