Drift Between Sand and Sea
---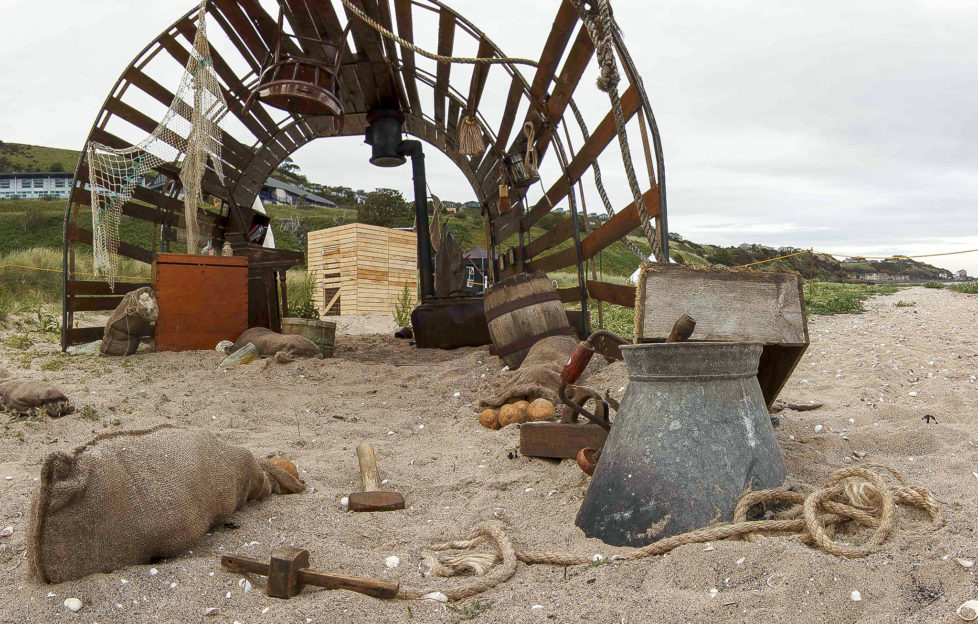 Immerse yourself in Betty's experiences of life afloat. Pic: Daniel Lacasta Fitzsimmons
An installation with a difference is touring Scotland's shores this summer
Edinburgh-based visual theatre company, Vision Mechanics, have a reputation for innovative productions and unconventional spaces, and their latest venture, Drift, is taking places on some of Scotland's most beautiful beaches.
Inspired by a true story, Drift tells of Shetland crofter Betty Mouat, who, in 1886 at aged 61, left Shetland on board the Columbine.
She was the only passenger, and when the crew were washed overboard, Betty was presumed lost at sea. More than a week later, however, the ship grounded in Norway, with Betty the soul survivor.
To fully immerse the audience in her journey, Vision Mechanics have created a walk-through set where the audience can interact with the props as they hear Betty tell her story.
"The audience experience Drift wearing individual headphones," explained director Symon Macintyre.
"Like archaeologists, they walk through our installation, discovering images and objects which uncover the thoughts and feelings of Betty Mouat, abandoned and drifting alone at sea."
One audience member enters the installation at a time to explore the time and memory lost between sand and sea. Symon hopes that this will enable the audience to really empathise with Betty's life, and learn something new about themselves at the same time.
The production is a collaboration between Nordland Visual Theatre (NVT) and Vision Mechanics, with generous support from Creative Scotland's Quality Production Fund.
Tour dates:
July 3 – 5 Nairn Beach, Nairn 7am – 12noon, 2pm – 9pm
July 10 – 13 Skaw Beach, Unst 7am – 12noon, 2pm – 9pm
(morning show only on July 13)
July 23 – 26 St Cyrus Bay, nr Montrose 7am – 12noon, 2pm – 9pm
August 6 – 9 Laig Bay, Eigg 7am – 12noon, 2pm – 9pm
Entry by donation