Ten Things You Cannae Miss… Aug 26 – Sept 1
---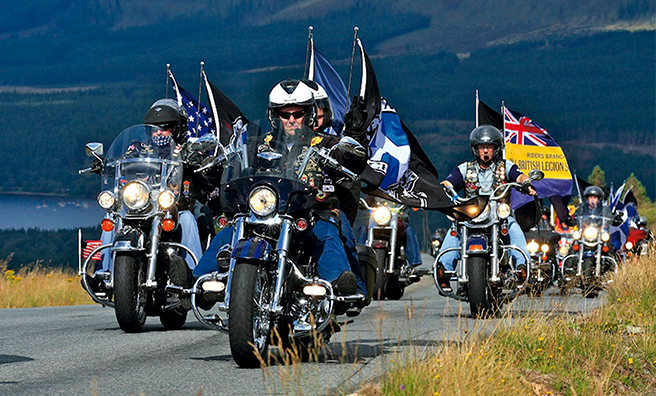 Our What's On guide to the most vibrant, most unusual and most unmissable events in Scotland this weekend and in the coming week

Thunder In The Glens
The annual Thunder In The Glens at Aviemore is always a great crowd pleaser, and this year it takes place from Friday, August 26, until Sunday, August 28. All camping and caravan spots have been booked, but find somewhere to park up and watch the hogs go by.

The Cheviot Restaged
If you missed last year's sell-out and five-star performances of The Cheviot, The Stag, And The Black, Black Oil at Dundee Rep, breathe a sigh of relief because it's back for a Scottish Tour. Catch it at the Rep from Wednesday, August 31.

Beyond Borders Scotland
The Beyond Borders International Festival of Literature and Thought takes place in the grounds of Traquair House across Saturday, August 27, and Sunday, August 28, featuring fascinating talks from renowned broadcasters, writers, thinkers, artists, diplomats and politicians…

The Great Scottish Swim!
Head along to Loch Lomond to support the brave swimmers taking to the water for the Great Scottish Swim! Across August 27 and 28 an expected 2,000 participants will make the event the biggest open water swim in Scotland.

Viking Fest
The Largs Viking festival is a week-long celebration of the ancient Viking heritage of Scotland. Expect reenactments, a Food and Craft Fayre, parades, live entertainment and lots and lots of fire from Saturday, August 27.

Cairngorm Farmer's Market
In Grantown-on-Spey on Saturday, August 27, you can taste the delights of the Farmer's Market, with stalls of local produce lining the Square. "Take a bit of the Cairngorms home with you".

Gallus Cooper
This brilliantly-named Glasgwegian Alice Cooper tribute act will be playing the Live Lounge stage in the Hard Rock Cafe in Buchanan Street on Saturday, August 27, supported by Peal Vs Jam.

Borders Heritage
The Borders Heritage Festival run by the Scottish Borders Council takes places during the whole of September with talks, walks, theatre, exhibitions, living history, archaeology – you name it! Celebrate the heritage of Border Country, and see the line-up here.

Nairn Books & Arts
From Tuesday, August 30, Nairn will be buzzing with its 13th Books & Arts Festival, featuring three extensive programmes of music, literature and visual arts at various locations throughout the town.

Highland Games
A fair few on our weekly Games round-up: Cowal Highland Games is the world's largest Highland Games with the World Highland Dance Championships and Pipe Band Championships. Catch it August 26-28.