Ten Things You Cannae Miss… Aug 19 – 25
---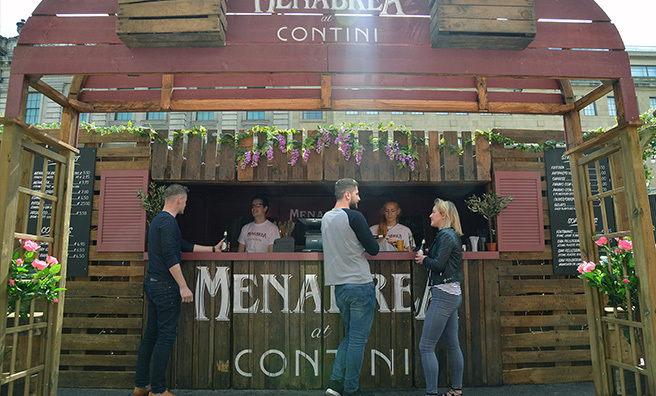 Our What's On guide to the most vibrant, most unusual and most unmissable events in Scotland this weekend and in the coming week

Taste of Italy
Menabrea have teamed up with Contini Restaurant to offer an alfresco taste of Italy in the heart of Edinburgh in a new pop-up bar. The relaxed, outdoor terrace bar experience will be open until the end of the Edinburgh Festival.

50th Celebration
The Tay Road Bridge celebrates 50 years this year, and a celebratory event on on Sunday, August 21, will include live music, food & drink across Dundee, Newport and Tayport – and vintage bus rides across the Tay!

Groove Inverness
Get ready for the biggest open-air nightclub for one night only! Featuring Groove Armada among its host of DJs, the Groove Festival will take place on Saturday, August 20 on the shores of Loch Ness.

A Distinct Selection
A new exhibition by one of Scotland's most prominent contemporary artists has launched in Glasgow. Catch a selection of highly collectable artworks by Adrian Wiszniewski at the By Distinction Art Gallery on Byres Road.

Mobile Cinema
Meet Audrey, the Vintage Mobile Cinema that has stopped off in Edinburgh for the Fringe. Showing 'Free Fringe' Short Films during the day and innovative shows at night, this is a little something different to do of an evening!

Doune The Rabbit Hole!
The intimate, independent music & arts festival is back this weekend amidst the glorious ancient oak trees of the Cardross Estate. Catch the likes of Trecherous Orchestra and Sinderins across August 19 – 21.

Celtic Reflections
Two iron-age mirrors are being displayed at Inverness Museum and Art Gallery until August 27. Don't miss these great examples of swirling Celtic art design, telling two very different stories.

Comedy Gala
Off the Kerb Productions presents their Comedy Gala 2016 in aid of Waverley Care, Saturday, August 20 at the Edinburgh Playhouse for a guaranteed fantastic night of comedy – and all for a good cause!

Elgin Food Fest
Over 80 exhibitors will showcase their culinary wares at various venues around Elgin High Street on Saturday, August 20. Tastings, hands-on activities, live entertainment and demonstrations.


Games Round Up
Here's your round up of all the traditional Highland Games across the country this week: Crieff, Stirling, Nairn, Glenfinnan, Helmsdale, and Blairgowrie!