Ten Things You Cannae Miss… June 5 – 11
---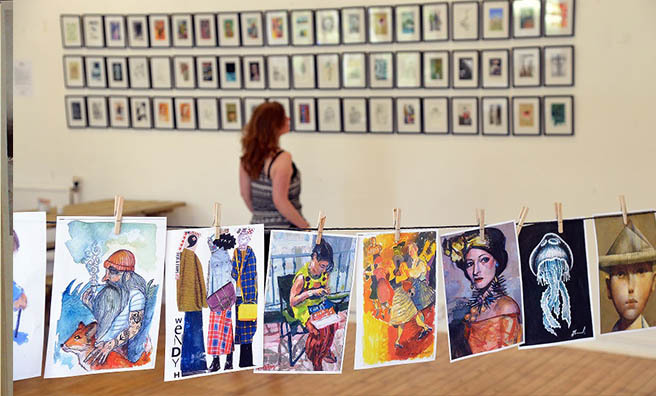 Our team have swept the length and breadth of Scotland to find you the most vibrant, most unusual and most unmissable events on offer this weekend, and in the coming week . . .
Walk the Glens
The Angus Walking Festival runs until Sunday, June 7, with guided walks to suit any ability. The programme of 24 walks range from the quiet ramble to the strenuous climb so check out their programme for the right walk for you, and get out and explore.
Racing Colours
Saturday, June 6 sees Aberdeen's Esplanade turn a blaze of colour with Colour Me Rad 5k that includes colour bombs, colour cannons, colour mortars, and multi-toned courses. Entries close on Friday, June 5, but even for spectators – this is not to be missed!
Fiddlers Rally
Dunfermline Strathspey and Reel Society are celebrating their 25th Fiddlers' Rally on Saturday, June 6 at Carnegie Hall, Dunfermline. It's sure to be a lively evening with over 60 musicians including special guest artiste, award-winning fiddler Maggie Anderson.
West End On Parade
Running from Friday, June 5 to Sunday, June 28 Glasgow's West End Festival includes a programme of over 400 events from music and theatre to walks, talks and galas. A definite highlight is the Parade on Sunday, June 7 with street entertainers and food & craft stalls.
Celebrate the Fish Supper
National Fish & Chip Day takes place for the very first time on Friday, June 5 and award-winning Bay Fish & Chips in Stonehaven has a great way to celebrate! Pop down for a poke o' chips, and send them a photo of it to be in with a chance of winning a year's supply!
Rock Art!
The Rock Trust's fifth Postcard Art exhibition and auction takes place from Thursday, June 4 onwards at Summerhall, Edinburgh. Over 170 mini masterpieces, have been donated by renowned local, national and international artists to raise funds and awareness for youth homelessness in Edinburgh and the Lothians.
New Play At The Shed
The deeply moving play Bill W. and Dr. Bob tells the amazing story of the two men who founded Alcoholics Anonymous, and it's coming to Glasgow's The Shed from Wednesday, June 10, to celebrate the fellowship's 80th anniversary.
The Angus Show
A great day out for all the family, The Angus Show promises puppet shows and races for the kids, plus craft stalls and machinery displays for the older generation as well as the light-legged horse competition. Saturday,June 6, at the Brechin Castle Show Field.
Walk The Kiltwalk
The first Kiltwalk of the year takes place on Sunday, June 7 in Aberdeen's Duthie Park. Pop along to cheer on the walkers, who will be tackling 26 miles to help Scotland's most vulnerable,disadvantaged and sick children, or register yourself for one of the walks later in the year!
Live at Hootenanny!
Kenny Jamieson, Stuart Macintosh and Gerry Coogan are coming to Hootenanny in Inverness this Saturday, June 7 for a toe-tapping evening of live folk music. Their band, Schiehallion, has seen some changes in their 25-year run, but they still sound as fresh as ever.