Ten Things You Cannae Miss… June 12 – 18
---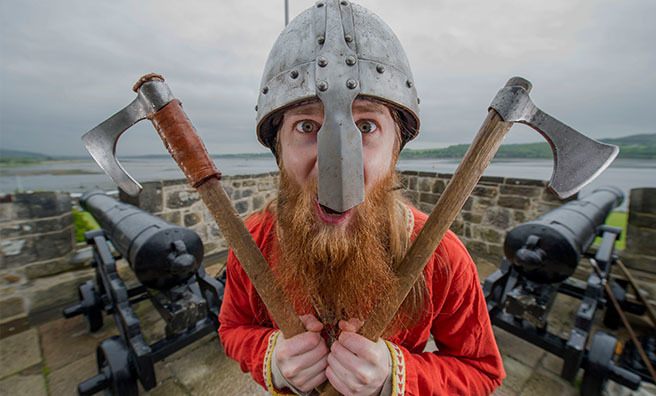 Our team have swept the length and breadth of Scotland to find you the most vibrant, most unusual and most unmissable events on offer this weekend, and in the coming week . . .
Books in the Borders
The Borders Book Festival from June 11 to 14 is a literary feast of talks, discussions, comedy, music and food & drink. There's even a book bar! Pop along and find out why Michael Palin called it the best book festival in Britain!
Strathmore Highland Games
Heavies from all over the country are welcome to the Strathmore Highland Games on Sunday, June 14 for the British Tug-o-War Championships! Highland dancing, pipe band competitions and local craft and food stalls, too!
Hands On History
As part of their "Hands On History" programme, Shetland Museum is offering the chance to get up close and personal with their impressive collection of archaeology artefacts. 3-4pm daily, Wednesday, June 17 – Saturday, June 20.
Rock of Ages!
Over the course of the weekend, Dumbarton Castle Rock and Pier Park below will be transformed into a real life timeline, charting key periods from the last 1,000 years of Scottish history. Over 100 costumed performers and re-enactors take part in Rock of Ages to enthrall kids both great and small.
Folk Night
The Kilkennys are revitalising traditional Irish music with their own touch of passion and youthful energy. They're coming to Empire Theatre in Inverness on Wednesday, June 17, but loads of other venues too so check their tour dates for more!
MoonWalking
The marathon walk fundraiser, MoonWalk, is back in Edinburgh on Saturday, June 13, to raise funds to tackle breast cancer. It's too late to walk yourself, but do pop down for the celebration evening where the Red Hot Chilli Pipers give the walkers a fitting send off.
Celebrating Juniper
The second Scottish Juniper Festival takes place June 12 – 14 in Edinburgh's Summerhall for a full weekend of tastings, distillery tours and cocktails. Stick around for the Great Tonic debate, too, to find out what mixer brings out the best flavour of Pickering's gin. Yum!
Potfest at the Palace
The seventeenth annual Scottish Potfest comes to Scone Palace for a weekend of the best local, national, and even international ceramic works! Entrance is a mere fiver, and you can see the entire list of exhibitors, here.
Beltane Festival
It's the Peebles Beltane Festival from June 14 – 20, and a definite highlight is the Beltane Concert featuring local bands and entertainment, and culminating in a parade through the streets to escort the newly-crowned Beltane Queen home.
A Feast of Food
Crail Food Festival is on June 12 – 14, bringing the picturesque Fife coastal village to life with foodie-themed events and activities. Expect local craft and produce markets, lobster lunches on the harbour and a fish supper evening called Patter and Batter!