Ten Things You Cannae Miss… Sept 16 – 22
---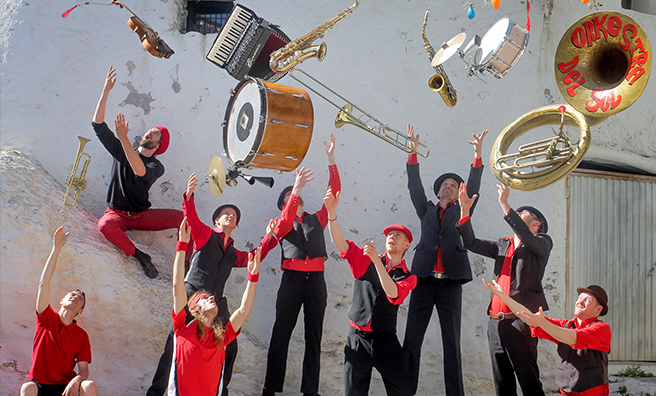 Our What's On guide to the most vibrant, most unusual and most unmissable events in Scotland this weekend and in the coming week

Findhorn Bay Festival
This spectacular six-day celebration of arts and culture takes place at the heart of Moray from Wednesday, September 21, to showcase artists of national and international renown in music, theatre and art.

Red Note at Lammermuir
Enjoy the exquisite music from Red Note in the unusual setting of the Concorde Hanger for the Lammermuir Festival! This feast for the eyes and ears comes to East Fortune Airfield on Thursday, September 16.

Glasgow's Open Doors
The city's Open Doors close on Sunday, September 18, so head down there this weekend to take part in this free event offering walks, tours and talks celebrating Glasgow's unique building heritage.


Adventure in Film
Celebrate the very best in adventure and travels films at Inverewe Gardens in a two-day immersive atmosphere across the weekend of September 17-18, with camping, breakfast and two-course dinners.

Taudevin at The Rep
Julia Taudevin performs her fierce and playful feminist work with special guests at Dundee Rep on Tuesday, September 20, with haunting melodies, thought-provoking lyrics and progressive punk riffs.

Cycle Angus
Head to Red Park, Forfar, for the Angus Cycling Festival across Saturday, September 17, and Sunday September 18. Expect races, funduros, stunts and all sorts of two-wheeled activities.

Open Studios
North Fife has their open studios in May, and now comes the turn of Central Fife to show off their local artists with an open studios weekend, September 18-19, featuring textiles, jewellery, paintings, ceramics, or photography.

Piano Sundays
Witness Baroque and Classical favourites interspersed with ragtime and jazz from the extraordinary Jeremy Denk, kicking off the season of Piano Sundays at Perth's Horsecross on September 18.

Wildlife Photography
At the National Museum of Scotland from Saturday, September 17, catch the world-renowned exhibition of incredible images from Wildlife Photographer of the Year from fascinating animal behaviour to breath-taking wild landscapes

Wigtown Book Festival
The festival is back at Scotland's National Book Town from September 23 and featuring an island-inspired programme of author events, guided walks and, unusually for a literary celebration, a canoeing expedition!