Focus Follow Up: Mallaig
---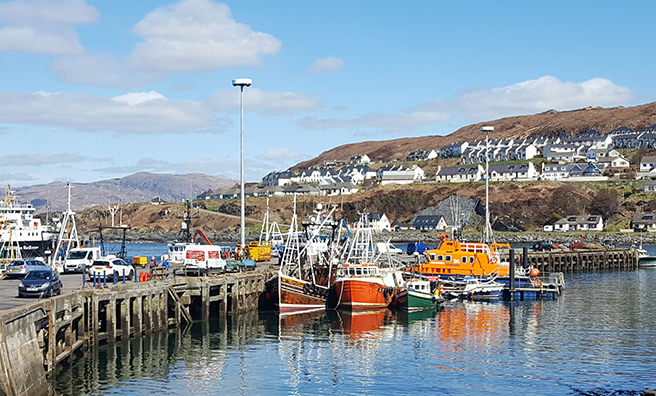 Our September issue's 9-page Focus is on The Small Isles, and here you can find out the best ways to get there, and what to do on the way…
There are three ways to get to the Small Isles – a RIB (Rigid Hull Inflatable Boat) from Skye or a ferry from Arisaig or Mallaig. The latter two options are the most popular and convenient, with Mallaig the base for regular CalMac trips to all four islands.
Mallaig is at the end of the "road to the isles", the A830 from Fort William. The section between Arisaig and Lochailort was the only single-track trunk road in the UK until a 2009 upgrade made it a fully double-tracked road.
The route passes through some of Scotland's most beautiful countryside, as captured in our August issue's Great Scottish Journeys photo feature.
One you get to Mallaig, however, don't just hop on the first ferry you see or turn tail and head south again. It's worth it to relax and wander round what was once the busiest herring port in Europe.
A Fast-growing Port
Despite its importance today, Mallaig is less than 200 years old. It was founded in 1841 when Lord Lovat, owner of the North Morar Estate, divided the Mallaigvaig farmstead into plots, in the hope of persuading his tenants in more populated parts to move and take up fishing as an occupation.
The plan worked; by 1851, the population had risen to 134, making it the largest village in the area.
In the 20th century tourism grew with the railway lines and in 1984 the Jacobite Steam Train started summer operations linking Mallaig with Fort William, a spectacular success that continues today.
The introduction of a roll-on roll-off ferry service to Armadale on Skye in 1984 brought Mallaig back into the running as a significant ferry port. That together with the Small Isles service and trips to Knoydart proves its significance as major tourist destination.
For the visitor, Mallaig is a fascinating place. It is a working port, and this forms the main focus of the activity of the town.
It makes a refreshing change to find a Highland town that still has this option, rather than tourism.
If you have a soft spot for the sea and for boats, Mallaig is one of the most attractive and interesting places you'll see. And while you are here, the Mallaig Heritage Centre is well worth a visit.
Accommodation ranges from backpackers through to rather more upmarket options like the West Highland Hotel. There are also plenty of options for food and drink, with plenty fresh seafood available.
---