The Forth Ferry Sails Again!
---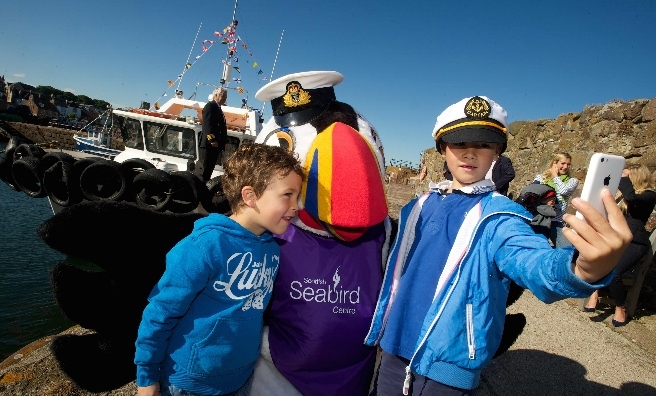 Selfie Time at the Forth Ferry. Laird and Radleigh snap a pic with the Scottish Seabird Centre's Tammie the Puffin. Photo by Rob MacDougall
Following a very successful trial of the service last August, Seafari Adventures and the Scottish Seabird Centre have officially launched the Forth Ferry for the 2016 season.
The Forth Ferry offers a unique passenger service between the popular seaside towns of North Berwick, East Lothian and Anstruther, Fife. Each crossing takes approximately 45 minutes on board the 55-seat Catamaran, and allows visitors to enjoy days out in either location.
Colin Aston, Managing Director of Seafari Adventures, said: "The trial of the Forth Ferry in 2015 was a great success, with lots of demand for the service and really positive feedback."
Some 10,000 pilgrims made the crossing across the Forth
This new excursion has its roots in a long and rich history, with boat trips between North Berwick and Fife dating back to at least 950AD, when the 'Pilgrims' Ferry' transported religious worshippers across the Forth to visit the relics of Scotland's patron saint at St Andrews. At its height, some 10,000 pilgrims made the crossing across the Forth every year.
However, the aim of today's ferry across the Forth is to forge closer tourism links between East Lothian and Fife, offering locals and visitors alike opportunities for great days out on both sides of the mighty estuary.
"It's been wonderful to reinstate this historic route," said Tom Brock OBE, Chief Executive of the Scottish Seabird Centre. "This innovative service will benefit locals, visitors and communities on both sides of the Forth and it is great to be able to officially launch the Forth Ferry for 2016 in the Year of Innovation, Architecture and Design.
"We have been working in partnership with Fife Council, East Lothian Council, the Scottish Fisheries Museum, East Neuk Tourist Association and North Berwick Business Association on visitor itineraries and will be looking for locals to give their top tips for days out with #FFRecommends."
Journey between Fife and East Lothian
Manuela Calchini, Regional Director at VisitScotland, said: "From the majestic Tantallon Castle in East Lothian to the beautiful seaside village of Anstruther in Fife, this service will make it even easier for visitors to explore the many attractions on both sides of the water. We hope more visitors will take advantage of this unique travel experience and journey between Fife and East Lothian this season."
The Forth Ferry excursion is the latest addition to a wide variety of popular boat trips offered by Seafari Adventures and the Seabird Centre. For full details of all trips available, including the Forth Ferry, click here.
For lots more ideas about places to go and things to do across Scotland, pick up this month's issue of The Scots Magazine. On sale now or order online here.