Our Gaelic Landscape: Glasgow
---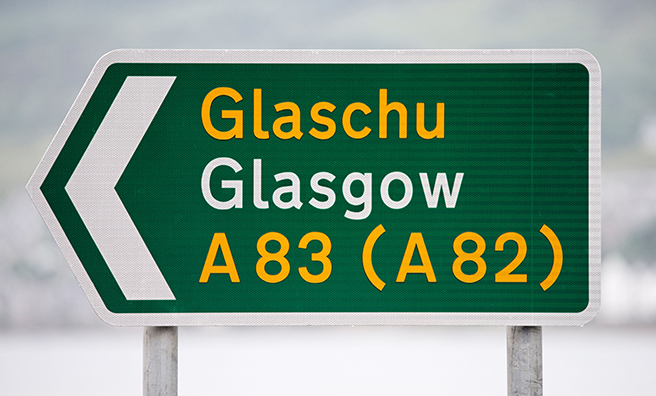 Did you know the origins of these Glaswegian place names?
Let's start with Glasgow, from the Gaelic Glaschu. This in turn is believed to derive from the older Cumbric language spoken by early residents of Wales, North England and Southern Scotland. Glaschu  is believed to mean "Dear Green Place".
Here are a few local place names in Glasgow and the surrounding area, with their possible Gaelic origins.
How many did you know?
Auchenshuggle
Achadh na Seagal – rye field.
Bellahouston
Baile Cheusadain – the settlement of the crucifix.
Carmunnock
Cathair Mhanach – round hill of the monk.
Cowcaddens
Cuil Calldainn – the corner of the hazels.
Drumchapel
Druim Chapaill – ridge of the horse.
Gartnavel
Gart nan Ubhal – the apple field.
Govan
Baile a' Ghobhainn – township of the blacksmith.
Ibrox
Ath Bruic – the badger's ford.
Milngavie
Muillean gaoithe or Meall na gaoithe – the windmill, or possibly 'the hill of the wind'.
Sauchiehall Street
Sauchie Hauch – a meadow by a river, covered in willow trees.
Yoker
Iochdar – low-lying ground.