Glen Esk to John O'Groats Part Six
---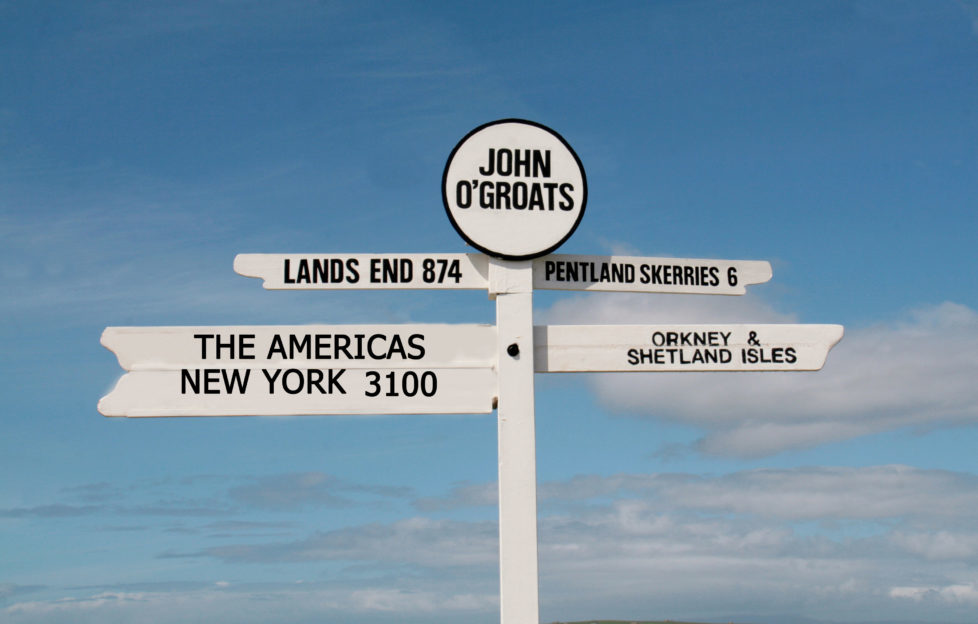 In the final update from this series, Tom Weir
drives the Caithness coast road and finally
reaches John O'Groats
Then into Caithness by the once- dreaded Ord, still a steep coastal road to be reckoned with, rising and falling over the steep flanks of the hills to reach the crofting country.
It was because of this ribbed landscape that the railway went inland on a tedious detour through a countryside of peat hags, empty except for shooting lodges and the cottages of keepers and shepherds.
The coast road is fun, though, with its wee Norse-sounding villages, Lybster, Occumsrer, Thrumster. Even the name Wick comes from the Norse, from Vik, a bay. Once an important centre of herring fishing in the north, I saw it was still very much in use by modern fishing boats too numerous to count, but as we all know the fishing industry is not in good heart anywhere at the moment.
New Industries
The far north is of course very vulnerable when it has to depend upon land and sea for a living, and its future may depend on industries related to North Sea oil.
The glass factory set up by the Highlands and Islands Development Boad is doing well, however, exporting their celebrated Caithness Glass to Australia , America, New Zealand, Japan and other places.
I had a look at the men twirling the molten glass on the end of long blowing sticks, controlling the shape by short puffs, to make decanters or tumblers, finalising the design by putting it into a mould.
I was amazed to hear that an experienced man can produce up to 300 pieces in a day depending on the nature of the item.
North of Wick the road gets narrower and narrower until it is single track at one point broadening again just before John o' Groats, where a signpost on the edge of the Pentland Firth indicates, "Land's End 874 miles", and across the water lies Stroma and the green Orkneys.
There are plans to improve John o' Groats, which at the moment is rather unimpressive and as tatty as Land's End. Like that place it is tourism that has made it so. Of this more next month.
---
We're pleased to add that major redevelopment work in John o'Groats was completed in 2013, revitalising the area and making it much less "tatty"! Go to www.visitjohnogroats.com to find out more.
We'll have a new feature from Tom Weir's Archives live next Friday.
---
More From Tom…
We have an extensive archive of Tom Weir's great columns for The Scots Magazine, and we're slowly but surely getting them published digitally for new generations to enjoy.
To see the columns we have online so far, click here.