Hebrides Ensemble Tribute To Leonard Bernstein
---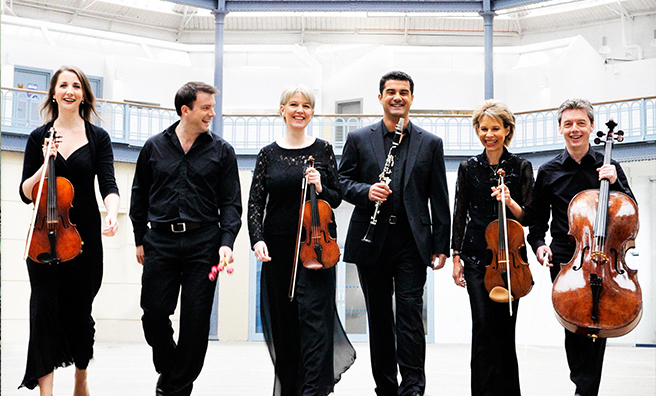 A remarkable end to the Edinburgh Festival Queen's hall series
With 2018 being  Leonard Bernstein's centenary, the last weekend of the Edinburgh Festival weighed heavily in favour of the great man's music.
I chose The Hebrides Ensemble's own tribute, two of his works coupled with two by his contemporary Aaron Copland. Success rate? 50%, I would say, and that's per each composer.
However, the Bernstein work that didn't quite fit the bill was written at an early age, and I'm perfectly willing to give him the benefit of the doubt as his music in later life is exceptional. His Piano Trio – performed by William Conway, Philip Moore and Stephanie Gonley – tired its best, but fell a bit flat despite superb performances by the trio.
The Copland work that I didn't see eye to eye with? His Piano Variations, which I found stark, abrasive, and with too much percussion. Stark? Well, anything based on a mere four-note motif can't be anything else.
What should be lauded was the performance of James Baillieu, which was at timesof superhuman proportions. It's not the first time one has been impressed more with the player than with the piece.
But Copland's Appalachian Spring suite and Bernstein's Arias and Barcarolles more than made up for these short-comings. in the Copland, the Hebrides were at full strength and full might, bring out the variations of mood and colour as only 13 superb musicians can.
This was excellent, but the Bernstein songs which brought the concert to a fine, if not quirky, end surpassed them. Strange,  pithy but always clever lyrics, mostly by the composer himself,  coupled by some inspired accompaniment made for a real treat. But this feast was even grander due to J'Nai Bridges (mezzo) and Alex Otterburn (baritone). Their delivery and interpretation was outstanding.
This brought the curtain down on the Edinburgh Festival Queen's hall series.