Hidden Door Festival Was A Huge Hit!
---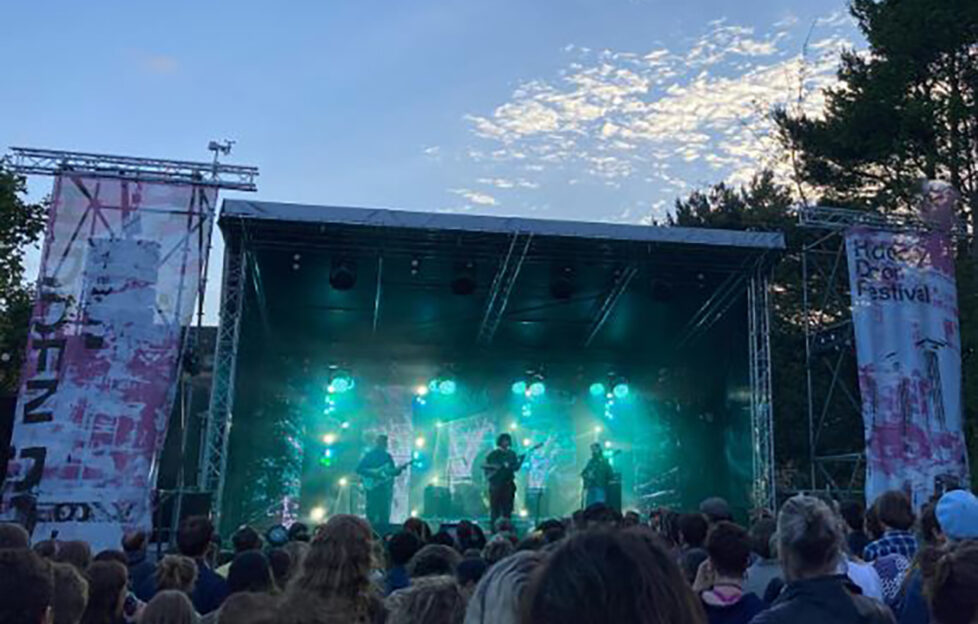 This is the Kit on Mainstage
Hidden Door Festival returns with an explosion of light, colour and sound! This year's festival was a truly special showcase of some of the country's most outstanding newcomer artists and musicians, poets and dancers.
Hidden Door Festival has steadily grown in size and reputation since 2014. Its aim is to reveal hidden parts of Edinburgh and its fascinating architecture while showcasing new and emerging artists. This year, more than 200 artists showcased their work in the stunning and unexplored surroundings of the Old Royal High School on Calton Hill for the 10-day event.
I have to say, this volunteer-run event was truly one of the best music and art festivals I've ever attended.
Ahead of the festival, we spoke with David Martin, creative director of Hidden Door. We were promised the festival's "most ambitious programme yet and staged in one of our most ambitious venues." And the event did better than just not disappoint, it surpassed all expectations.
Festival-goers had the opportunity to explore a myriad of performance and exhibition spaces as they made their way through this super interesting and unique building. It was a journey of discovery, uncovering unexpected sights, sounds and pops of colour along the way, such as light shows and small art galleries.
The main joy of this festival was the freedom to roam around! Given its small nature, I could easily wander from one set to the next, stumbling upon very intimate performances behind various hidden doors. It was also an absolute treat to encounter the odd piece of vibrant artwork around every corner. This just added another layer of novelty to the day!
I believe this unique vibe played a huge part in the types of audience the festival attracted. I noticed a wide range of people, varying in age, style and interest which, alongside a well-rounded line-up, created a notably inclusive festival. It wasn't just a marketing ploy, there truly was something for everyone!
I tagged along on the penultimate night when the festival energy was already in full swing. I enjoyed the night's headliner, alternative folk-rock collective, This is the Kit, who played a mellow set as the sun began to fall. They followed on from the haunting sea shanty sounds of John Francis Flynn.
When last drinks were called for outdoors, a number of us poured into the indoor stage maxing it to full capacity. Here, newcomers – an alt-rock six-piece from the East End of Glasgow – The Joy Hotel, played the most jaw-dropping set of the night! Their non-stop performance was practically flawless and a stand-out for me. The band was full of energy, sounded unlike anything I've heard before within the Scottish music scene, and they genuinely got the crowd going.
Another highlight was a performance from the Brighton-based band Penelope Isles, and the multicultural influences of contemporary folk singer-songwriter Flo Perlin whose deeply personal song Bagdad was particularly moving.
As the night drew to a close, I managed to pop down to the basement area which had been transformed into a club. Sisu, a community providing a platform to educate, inspire and showcase aspiring women, trans women and non-binary DJ's and producers, showcased resident artists such as (((CLEOPATRA))), RUTHLSS, Shauna, She Bang Rave Unit, Little Hats, and Sauceress.
Poetry and classical music took place in the Pianodrome, while various dancers performed in the central debate chamber. There was so much to see and do in such a small space and amount of time that I admit I didn't catch it all; however, this was part of the festival's charm and excitement for me.
Now with this year's festival over, planning for 2023 is underway! After what I saw at Hidden Door 2022, I am incredibly keen to attend the festival again and again as I discovered so much new music and so many incredible artists.
Watch out for news coming very soon on @hiddendoorarts Instagram and Early Bird tickets. Sign up to their mailing list to be the first to hear: www.hiddendoorarts.org/subscribe/
Discover more events and things to do around Scotland every month with The Scots Magazine (SUBSCRIBE)