Midge Ure | Home Is Where The Heart Is
---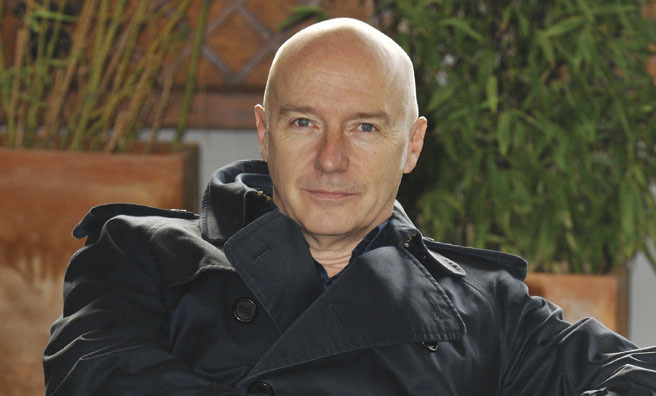 Singer Midge Ure (Pic: Nils Jorgensen / Rex Features)
The breath-taking view from Midge Ure's house, of the lush, green countryside and rolling hills surrounding Bath, couldn't be further from the harsh tenement life on the outskirts of Glasgow he was born into in 1953.
Born James Ure, he spent his first ten years in a one-bedroom flat in Cambuslang with his parents and brother; childhood days he remembers with incredible fondness, despite the conditions.
All this was an adventure playground to me
He says, " To my parents it was probably hell, to me it was idyllic. Tenement life was tough – outside toilets, icicles on the inside of the windows, very little space, but because everyone I knew was in the same situation, it didn't matter. The back garden was a bombed out courtyard with stagnant water from the sewers and clapped out old cars but all this was an adventure playground to me. There was a camaraderie about it and a great sense of community. I especially remember Monday mornings when all the women met in the outside wash houses, helping each other push the sheets through the mangle, having a laugh and catching up on all the news."
In those days he never dreamt he would grow up to achieve the fame and respect he still commands today, not just musically but in the charity world as well.
Hit single Vienna in 1981 catapulted him to the top
Midge (a phonetic reversal of Jim bestowed on him in his first band Salvation in 1972 as there were two Jims) played throughout the 1970s in bands including Slik, Thin Lizzy, The Rich Kids and Visage, but it was as frontman of Ultravox and the hit single Vienna in 1981 that catapulted him to the top.
In 1984 he produced and co-wrote the Band Aid hit Do They Know It's Christmas? with Bob Geldof, after Michael Buerk's heartbreaking report on the BBC about the Ethiopian famine. He describes it as one of the worst songs he's ever written, saying that, "the momentum the artists gave it in the recording studio is what made it." Still, the pair received two Ivor Novello awards for writing the song. They also set up The Band Aid Trust and Ure remains a trustee today as well as working for The Princes Trust and serving as an ambassador for Save the Children.
I still regard Scotland as home
Although work forced him to England, Ure knew that Scotland would always be home. "When I left Scotland the music industry was very much in a fledging state and I knew if I was to progress I had to go to London. But I went back as much as possible to see my family and even now thirty odd years on, I still regard it as home. You carry it with you, you don't have to live in Scotland to feel Scottish."
It was during a visit to his parents in Glasgow at the peak of his success in the 1980s that he experienced what to him makes Scotland special.
"I had gone back up to Glasgow and I went to the bank to cash a cheque. The clerk behind the counter never looked up, all I could see was the top of his head. He saw the name Ure, then, still looking down, uttered the words 'are you home to see your mammy then?' That kind of understatement, to me, is brilliant. He was saying 'it doesn't matter how successful you are, how big you think you are in your boots, we'll sort you out and keep you level.' The character of the people is what makes Scotland special."
Ure is proud that Scotland has had a huge influence on his work, even though it took him years to see it.
The haunting melodies sounded so Scottish
"Until about 15 years ago I'd thought Scotland had had no influence on my work musically; how wrong I was. It wasn't until I went through a period of getting away from synthesisers and trying out Ultravox numbers on the Uilleann pipes and mandolin with The Chieftains, that it dawned on me how Celtic they had always been. The sense of structure, the lamenting, haunting melodies sounded so Scottish on these different instruments, it really threw me. Then it became clear to me; I had been brought up on Scottish country dancing with traditional fiddle and accordion and hadn't realised what a huge dent it had made in my psyche and all that time I thought I had been writing pop tunes!"
He adds that it's not just his music that has been inspired by Scotland. "The landscape has had a profound effect on the 'peripherals' of my music; the art work, the record sleeves, the videos and the graphics are inextricably linked with the magnificent countryside."
Two of Ure's most treasured possessions are a pair of chairs designed by George Logan, who worked for Wylie and Lochhead in Glasgow, the great furniture firm of the Arts and Crafts movement. One of them is inscribed with Let Glasgow Flourish and the sister chair boasts St Mungo and the Glasgow City Emblem: The fish that never swam, the tree that never grew, the bell that never rang.
"These chairs have been with me all the way and I love them," he enthuses. "It's great having something so very Scottish in my front room as they represent an amazing period in our history. One of my heroes is Charles Rennie Mackintosh. He was so radical and forward thinking and out of sync in a good way with what was the norm, and he left such a fantastic legacy."
The late Labour leader John Smith made a lasting impression on the pop star
The late Labour leader John Smith, whom he met, also made a lasting impression on the pop star, not in a party political way, he says, but because he saw him as a good, decent man. Whenever Ure goes over to Iona, one of his favourite places, he always pays a visit to his grave and admires the words engraved on it: An honest man's the noblest work of God.
"What a great thing to have said about you. It couldn't be better, could it?" Midge says.
When he goes back to Glasgow he likes to take what he describes as a "time machine trip" to the place where he first played music in public, with a group of teenage friends. For him, it's a reality check.
"I go back to the old places I used to hang around as a kid, not because I'm sentimental but because it takes me back to the time when I dreamed about doing what I do now. It's a great reminder, the ultimate slap down.
"I say to myself, 'when you were at that school, you were only drawing pictures of guitars, now you have more than you know what to do with.' When I see the scout hut where I first performed on stage it tells me not to get too impressed with all the trappings of success like the platinum awards and the gongs."
"The people there have nothing but they are happy"
Ure adds that the trips to Africa he makes on behalf of Save the Children, also serve as a reminder of what's important in life. "The people there have nothing but they are happy and you see something we've lost – generations of one family living together. Forty years ago we did have our grannies living with us, but now that's rare."
Ure moved his parents to England to be near him but he is quick to stress that he took their ashes back to Scotland to scatter them in the Clyde. "They and me are Scottish through and through and I had to take them home."
They may be based south of the border, but the family Ure are frequent visitors to Scotland. Midge and his wife Sheridan, were married on Mull, at Calgary Castle ten years ago and daughter, Kitty, is at Edinburgh University.
"We've always taken the girls to Scotland. We love the Highlands and the Islands, especially Plockton, the location of TV series Hamish Macbeth. When our youngest flees the nest, me and Sheri just might decamp there permanently."