Homegrown Talent – Martin Compston
---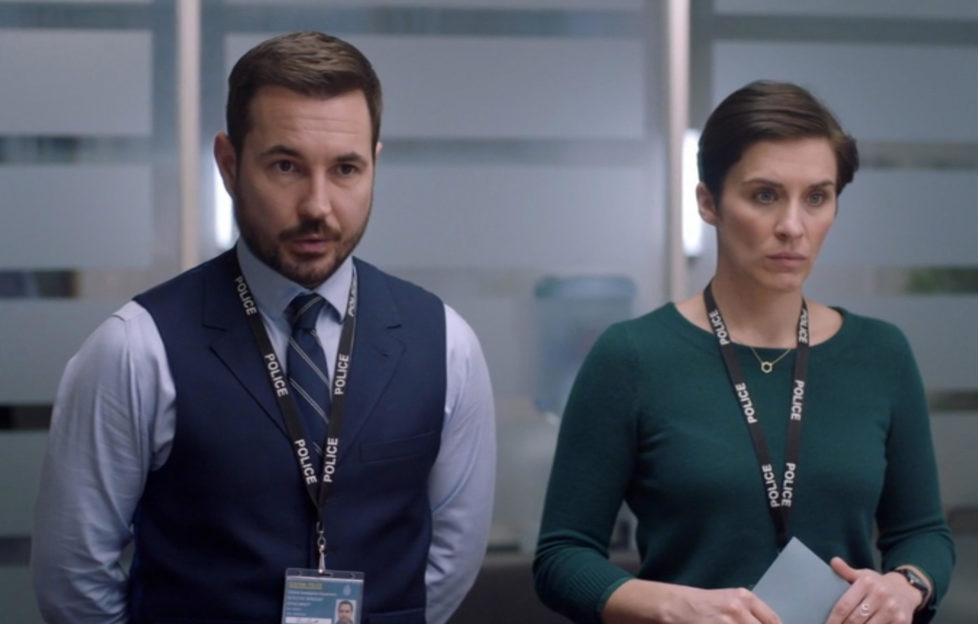 Vicky McClure and Martin Compston ©World Productions/BBC, Line of Duty
Award-winning actor Martin Compston talks Line of Duty success, humble beginnings and his passion for working on Scottish indie productions…
Best known for his role as detective sergeant Steve Arnott in the award-winning BBC police drama, Line of Duty, Martin Compston is fast becoming a household name and one of Scotland's best known acting exports.
The Scottish star's acting journey began unexpectedly and almost immediately after stepping back from his short-lived career as a professional footballer for his home team, Greenock Morton FC.
In 2002, having never acted before, he successfully auditioned for the lead role in Sweet Sixteen – a gritty independent film by filmmaker Ken Loach, that was being shot just down the road in his hometown, Greenock.
The film was a huge hit at the Cannes Film Festival and made Martin Compston an instant success. His performance won him Most Promising Newcomer at the British Independent Film Awards.
"After Sweet Sixteen, I did a lot of indie movies and I was seen as an independent actor, which I love. I'm probably at my happiest on independent productions – but it can be hard to get out of that.
"I honestly never thought I would be trusted with mainstream telly. But I think doing Line of Duty opened me up to a lot of other jobs. I suddenly appealed to a wider audience, which is great.
"I'm very grateful to Line of Duty's showrunner, Jed Mercurio, for giving me the chance."
When the first series of the award-winning show premiered, it became BBC Two's best-performing drama series in 10 years, drawing in an audience of 4.1 million and catapulting Martin to new heights of fame. And when fans discovered Martin's English accent wasn't natural, clips of his fierce Scottish tones went viral.
"Accents can be a bit like a costume, especially if you're still in the process of trying to discover a character. When you do the voice, you immediately associate yourself with that person," he says.
"But I'd rather just use my own accent – it's not really cheating but it is one less thing to focus on getting right.
"When you're doing an accent you really have to put in the work, you have to know every syllable inside out, so you study the script much more technically."
Martin found that it was his pronunciation, rather than his acting, that was under investigation when taking on the role of detective sergeant Steve Arnott.
"I've been doing an accent for over 10 years now with Line of Duty, but what I've found is people become accent detectives. The more people know that I'm actually Scottish, the more they start listening for mistakes and pointing out episodes where it slips," he says.
"That's one of the main reasons I stay in accent when I'm on set.
"The funny thing is, if you just approach somebody with that accent, they're not listening for mistakes and they believe what they hear. They take you at face value – unless it's actually horrid – so it's good for the confidence."
Returning home to work on Scottish-centric dramas has become a priority of his.
"Anytime that I get to film in Scotland is a blast for me," says Martin.
His most recent Scottish role in the BBC One thriller, The Nest, brought him back across the border and back to his roots. Something many have enjoyed about the show is that it features shots of Scotland's stunning west coast landscape.
"It's a brilliant script, great cast and I get to come to Scotland again! Nicole Taylor is one of the most exciting and original voices in writing today, and I'm chuffed we're finally working together.
"Combined with filming in Glasgow and going back onto BBC One in my west coast accent – it's a dream scenario really."
The Nest is an emotional thriller about love and money, and the price of being able to buy whatever you want. Dan (Martin Compston) and Emily (Sophie Rundle – Peaky Blinders, Gentleman Jack) live a lavish lifestyle in a beautiful house just outside Glasgow. All that's missing is a baby. But a chance encounter with troubled teenager Kaya, who's willing to carry their baby for a price, propels the couple's comfortable lifestyle into turmoil.
This isn't the first time the star has returned to film in Scotland. Martin Compston took to the streets of Dundee to film UKTV's original forensic crime drama, Traces – leaving locals both starstruck and excited to see their city showcased on the screen.
Based on an original idea by best-selling crime writer Val McDermid, Martin plays the role of Daniel, the mysterious love interest of protagonist Emma Hedges. The show follows forensic lab technician Emma as she goes on an emotional journey to solve her own mother's murder, whose body was discovered on Dundee Law years before.
"It's always nice to see different parts of the country represented on TV. With Traces we got these brilliant shots of the Tay Bridge and the V&A," says Martin.
"There are some spectacular sights in and around Dundee and I think we showed it off pretty well. It is a lovely bit of work"
Although a west coaster at heart, the award-winning Scots actor is a big fan of the Dundonian spirit, and is thankful for the welcoming response he received while filming in the city centre.
"Dundee folk are definitely a law unto themselves. They're a very unique race," he says. "I lived with Kyle Falconer from Dundee band The View for several years, so I have a bit of an insight into the Dundonian mindset, which helped.
"It's a beautiful part of the country and it's a lovely accent, but I probably gave my charcater Daniel an east coast lilt."
It's safe to say that Martin Compston enjoys a good drama. But the characters he chooses to play are often very different.
So what really draws this well-versed actor into a new role?
"At one point it was just about getting work. Actors are always living in fear of when the next job will come along," Martin says. "But I've reached a nice place in my career now where I don't have to take everything right away.
"For me, it always starts with the script – if I respond to the character if it's someone I can see myself playing, and whether I enjoy the read."
Although Martin has worked alongside many big names over the years – notably in Mary Queen of
Scots starring Margot Robbie, Saoirse Ronan, and fellow Scots actor David Tennant – it's fresh talent that he admires above all and draws the most inspiration from.
"One of the great things about this job is that you really never stop learning. Who inspires me the most varies from job to job," he says. "In the last two projects, Molly Windsor, who plays Emma in Traces, and Mirren Mack, who plays teenager Kaya in The Nest, really stood out.
"You'd think Molly had been acting for 20 years because she is that confident and that driven. She's already won a BAFTA. And Mirren is also a phenomenal actor for her age."
The only way is up for Martin, but given his humble working-class beginnings, like most famous Scottish actors, adjusting to his newfound fame did take some time.
"Life is a bit more hectic. The show kind of took on a life of its own over the last couple of years and things got more intense," he says. "I'll never get used to paparazzi following me about. It's not a nice feeling, seeing pictures of yourself and your wife out and about when you'd no idea anyone was following you.
"But life has mostly changed in a good way. I get out to lovely events and I'm well looked after – you have to take the good with the bad.
"Online, people can be a bit nasty, but actually people in the street are always lovely. Funnily enough, I don't really get hassled in Scotland.
"Scottish people tend to look after their own," Martin says, "which is nice."
Discover more interviews (CLICK HERE)