Brand New Crime Drama, Traces, Set In Dundee
---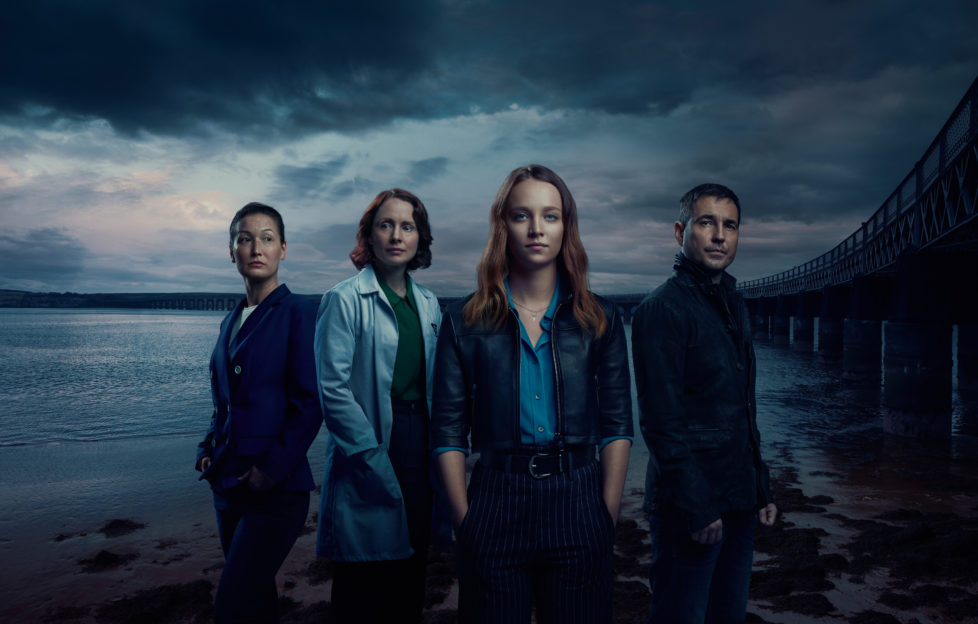 Picture credit: ©UKTV
UKTV Original series, Traces, is set in Dundee and stars numerous famous Scottish faces
Dundee is the star of a brand new crime drama series, Traces, based on an original idea by best-selling crime writer Val McDermid. The show also stars famous Scottish actors, Laura Fraser (Breaking Bad and A Knight's Tale) and Martin Compston (Line of Duty). This six-part series is a UKTV original for pay TV channel Alibi.
When Emma Hedges (Molly Windsor) returns to Dundee to start her new job as a lab technician, she's encouraged to take part in an online course teaching the principles of forensic science. Given a fictitious murder case, her task is to identify the victim and establish how they died. But having completed the first module, Emma knows exactly who the victim is: her mum! Marie Monroe (Carly Anderson) was murdered when Emma was seven, her body discovered on Dundee Law and no-one has ever been convicted. But why are Sarah Gordon (Laura Fraser), professor of chemistry, and Kathy Torrence (Jennifer Spence), professor of forensic anthropology, using her mother's case for their course?
Determined to discover what happened to Marie but unable to get answers from her family, Emma turns to Sarah who offers up trusted friend DI McKinven (Michael Nardone) as the natural place for Emma to take her revelations.
As Emma reconnects with her dad Drew (John Gordon Sinclair), her childhood friend Skye (Jamie Marie Leary) and her mum Izzy (Laurie Brett), while falling for the gentle and irresistible Daniel (Martin Compston), her sleuthing takes her into dark corners, unpicking more and more secrets, and it becomes clear that she should trust no-one. It will be Sarah and Kathy's exacting minds that reward Emma's faith in the science that has fuelled her imagination, and who will ultimately bring her mother's killer to justice.
Martin Compston, who plays the role of mysterious Daniel says the script the strong Scottish link is what initially drew him to the show. He says, "The script's really, really strong. It was nice to get back and do something Scotland orientated as well.
"We filmed a lot of it in Manchester. But obviously, we had to get up to the location in Dundee and I thought the cast was great, Michael Nardone, Laura Fraser – you know, real Scottish talent. The cast and the crew are just phenomenal. And Molly Windsor is just a wee star in the making. She's already got a BAFTA.
"Molly's character comes back to work at this fictional forensics lab and there is a world-class one of those in Dundee at Dundee University, which we were very lucky to pay a visit to. We got to see how it all works and it was fascinating."
Laura Fraser, who plays the meticulous Chemistry professor, Sarah Gordon, admits she never made it to the Dundee set. She says, "They shot my parts in Manchester. I wasn't in the week when they shot in Dundee. I was in Albuquerque filming Better Call Saul and I was really disappointed because I live in Glasgow and I thought, 'oh this is handy!' But if the series runs again, fingers crossed we will get to do a bit more in Scotland because that would be great."
Laura's character plays a pivotal role in the overall plot. She says, "Sarah is a professor for Chemistry and she is also a fire expert as well as the director of SIFSA, the Scottish Institute of Friends of Science and Anatomy. So, she is quite meticulous, a workaholic and really dedicated. She unfortunately uses some real evidence from the true case of the unsolved murder of Emma's mother. Because my character's so methodical and so exacting,  it's really unusual for her to make a mistake and she's really thrown by it. She's totally put off balance and she's scrambling in episode one to kind of fix her mistake which drives the whole story."
Traces is now available to buy on DVD from Amazon (CLICK HERE)
Full interview with Martin Compston in April's The Scots Magazine >>