Honours For Castle Cat!
---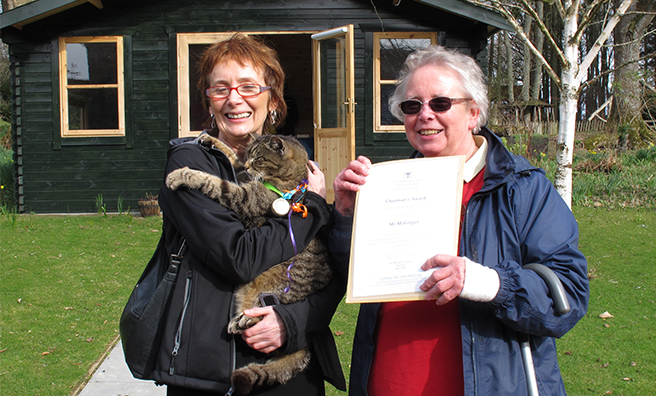 The service of Castle Fraser's resident feline has been recognised by the National Trust for Scotland – and, no, this is not an April Fools' Day joke.
The long-haired tabby, Mr MacGregor, will receive an award for long service, rodent control and enhancing the visitor experience today in a small presentation ceremony. When Damon Powell took up the post of Head Gardener at Castle Fraser, his family pet cat came with him and soon made it his mission to ensure that rodents and other unwelcome visitors to the garden were actively discouraged. Mr MacGregor has become so attached to his post as Gardens Cat that when the Powell family relocated to the Black Isle, they realised they could not take him with them. Discussion over his future reached the ears of Violet Dalton, the Trust's Head of Volunteering, who is, herself, a cat lover. It was coming up for the time that the Trust acknowledges the contribution of all its volunteers by presenting service awards, and Violet remembered another famous cat . . . "A few years ago, another National Trust for Scotland cat, Oscar Wylde of Broughton House, was the recipient of such an award when the staff there mischievously nominated him for his role in enhancing the visitor experience. "Given this precedent, we felt that Mr McGregor's input was also worthy of an award. The staff and volunteers at Castle Fraser who consider Mr McGregor to be an integral part of the team, were delighted with the proposal and a celebration event was set up."
---
Other Famous Cats
Mr MacGregor joins a long list of cats given honours in Scotland, the most famous being Towser of Glenturret Distillery – the officially-recognised record holder for mousing, and Hamish McHamish, the beloved town-cat of St Andrews who has a £5,000 statue in his likeness in Logies Lane.