Cross Country Skiing In The Cairngorms
---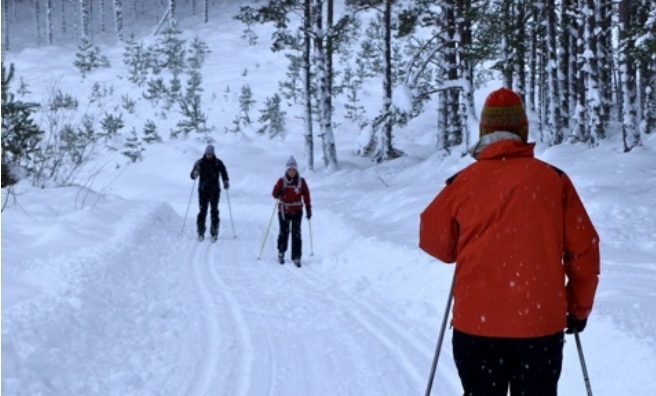 Tracks cut by the Glenmore Cross Country Ski Machine
With Scottish ski resorts reporting between 30-60 centimetres of snow – and the announcement of £5.5 million funding to upgrade Scotland's slopes – the 2015 ski season has got off to a perfect start. But hurtling down a mountainside isn't the only way to ski – cross country skiing is becoming increasingly popular.
"It's the only form of skiing that allows people to truly appreciate the Scottish countryside and really immerse themselves in the forest, says cross country ski instructor Nigel Wells, who provides tuition for the Aviemore and Glenmore Ski Shop, in the heart of the Cairngorms National Park.
"The silence, compounded by the compacted snow, can be deafening and the scenery in the Cairngorms is quite something."
'Burning around 500 calories an hour'
Having started cross country skiing as a hobby in the 1970s, Nigel reveals that this winter sport can be immensely challenging. "You don't have gravity propelling you down a hillside so self-locomotion is the order of the day, requiring some effort on the part of the individual and burning around 500 calories an hour." Although cross country skiing requires huge stamina, it's highly accessible. "Children can try it and I'm hugely interested in adaptive cross country skiing for those with disabilities," continued Nigel, who added that cross country skiing can be done at a gentle pace or speeding through the forest. "There are a variety of trails available in the winter months and with Glenmore now having a special cross country piste machine, many more can be cleared."
'You can cross country ski virtually anywhere'
Cross country skiing offers further advantages. "It's quite economic, as far as skiing goes," stresses Nigel. "As long as you dress sensibly for the outdoor temperatures, you don't need quite so much kit or ski wear – and you don't have to buy a lift pass. "Another huge bonus is that you don't have to queue for the lifts, which adds a lot of extra skiing time. And if there's snow on the ground, you can cross country ski virtually anywhere." To find out what's happening across the Cairngorms National Park this winter, click here. For more ideas about places to go and things to do across Scotland, pick up a copy of the latest issue of The Scots Magazine – in the shops now or order online by clicking here.