Mark Beaumont's 500 mile Cycle
---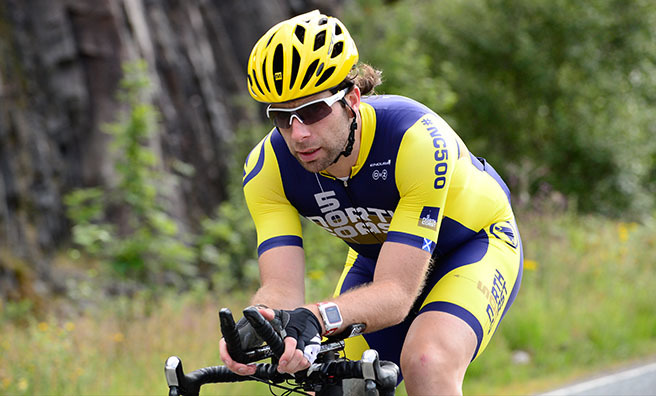 "I knew what I was getting into, but you do start with a certain naivety. It's only once you've done it that you fully realise the scale!"
In August Mark Beaumont cycled non-stop around Scotland's newest coastal route, the North Coast 500. It comprises more than 500 miles around the Highlands, and, having rested from his epic cycle of Africa's length in May, Mark decided to tackle it in under 40 hours.
"40 hours was my target," Mark told us, "and I managed it in 37 hours and 58 minutes, which was great."
Scotland's Route 66
Recently named the fifth best coastal road trips in the world, the route takes a coast-hugging loop around the Highlands, and was only opened a few months ago, aiming to be Scotland's answer to Route 66 of the USA.
It weaves from Inverness across to Applecross, then follows the rugged west coast up to Durness, along the top of Scotland to John o' Groats, and back down the east coast to Inverness.
After his Cairo to Cape Town epic, Perthshire-based, Mark, was keen to do something a little closer to home, and this sounded like the perfect opportunity.
"I was training with the Scottish squad at the Velodrome for my Africa trip, and some of the guys mentioned the North Coast 500. I hadn't really heard of it before, but I'd been wanting to do something in Scotland – all my stuff has been international so far."
A gruelling start
Mark chose to tackle the route clockwise, getting the worst of the cycling up the rugged west coast over with in the first day – which, unfortunately for Mark, wasn't the best day weather-wise.
"It was an intimidating start out – the west coast is insanely hilly. Lochinver up to Tongue is a tiny, mountainous road for cyclists, but, even though it was wet, it was beautiful. The whole of the west coast is stunning come rain or shine."
The rain cleared as Mark cycled through Sutherland, but as darkness fell the distance began to take its toll.
"I just had to bully myself into getting through it hour by hour."
"The main highlight was definitely the company"
One definite highlight, however, was the company – both planned and unexpected – that Mark encountered as he made his way through the outer reaches of Scotland.
He's used to cycling unaccompanied, but this time Mark had an entourage of seven with him to film the journey (and provide him with his requested peanut butter, jam and banana sandwiches).
Another unexpected source of encouragement came from the people who came to greet him along the route.
"It shows the real sense of community in the lesser populated areas of Scotland. In every single village – and I mean every single village – people came out to cheer me on."
A few of them were even waiting with their own bikes to cycle alongside Mark for some of his journey, sharing their photos and updates online.
"We didn't publicise it much so I didn't expect it at all, but there was huge interest across social media."
Crossing the finish line
As Mark came back into Inverness, with two hours to spare on his target time, he was pleasantly surprised to find a crowd waiting.
The first female Provost of Inverness, Helen Carmichael even presented him with a civic medal, the 'Coin of Inverness'.
"I didn't expect that at all," he said.
Mark shrugs off the attention and says his main reason for undertaking the cycle was to publicise the North Coast 500.
"The whole point of the journey was to give the route a brand, an identity – and to get people to explore it. I think a lot of people think that Scotland sort of stops at Inverness.
"I'm quite passionate about encouraging people to cycle, and if this gets more people out, that's great."
And a final word of advice for adventurous cyclists inspired to try the North Coast 500 themselves?
"… don't do it in a oner."
Check out the video of Mark's epic cycle below!
---
Mark says
Take about 5-6 days to do The NC500 properly
The West Coast is not to be underestimated; do the route clockwise to get the more strenuous part out of the way first
The prevailing Westerly may be tough in the ride up, but it provides a great tailwind along the north coast