Meet Sheila Fleet!
---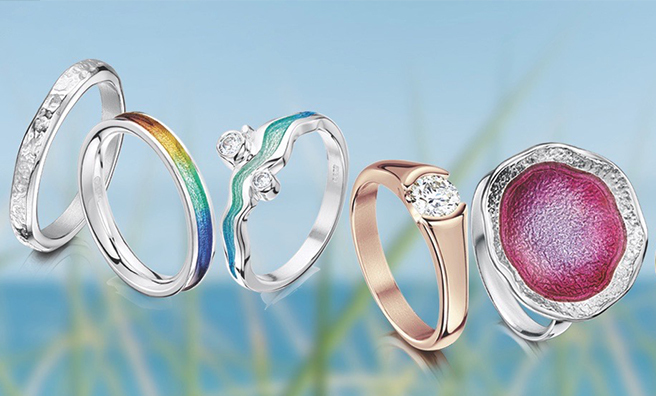 Be one of the first to see Sheila's new jewellery ranges, and meet the designer herself this summer
Leading Scottish jewellery designer, Sheila Fleet, is putting the finishing touches on some new summer designs. If you'd like to be among the first to see these fine silver and gold pieces then take a trip to Loch Lomond for Sheila's Meet the Designer event.
Sheila will be showing her new designs and new enamel colours in Jenners at Loch Lomond Shores.She'll also be bringing some exquisite high value rings handset with precious gemstones. Take this opportunity to have your finger expertly sized and a ring made to measure, specially for you.
All Sheila's jewellery and rings are made to order in her Workshop by the sea in the Orkney Islands.
To celebrate her summer event Sheila is offering 10% Loyalty Discount on all her silver & enamel, yellow, white and rose gold, palladium, platinum and diamond jewellery and rings. This offer excludes the charitable Daisies but includes all her new designs, new enamel colours and designer rings.
If you long for a relaxing day beside the cool waters of Loch Lomond with a few jewelled highlights then join Sheila, Janice and the Lomond team. Sheila has also recently become one of only two authorised jewellers for Scottish Gold – it's a wonderful chance to discuss reserving a ring made in this limited supply of very special gold from Cononish in the west of Scotland.
Meet the Designer takes place in Sheila Fleet's concession in Jenners, Loch Lomond Shores, Balloch, G83 8QL, Sat 22-29 July 9.30am-6pm. All welcome!
For more information visit sheilafleet.com