Get Baking for National Pie Week
---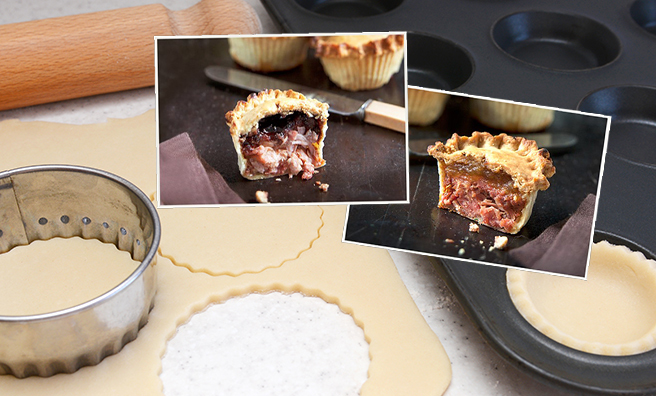 National Pie Week runs from March 6 – 12, and
we've got two great recipes for you to try your
hand at making your own!
To join in the festivities, Scottish pâté producer Castle MacLellan has created two classics to try – each with a signature twist.
Castle MacLellan has been producing meat, fish and vegetarian pâtés from its base in Kirkcudbright for more than 30 years and their pâté flavours are guaranteed to perk up any pie for National Pie Week!
Ham & Duck Pie
Caramelised onion chutney or cider and apple compliments this recipe effortlessly. For a more delicate flavour, try ham hock and our Chicken Liver Pâté with a beetroot or caramelised onion chutney. A perfect combination.
Ingredients
1 Tub of Castle MacLellan Duck Pâté
500 g Packet of Short Crust Pastry
200 g Packet of Ham Hock
Chutney
Method
Preheat the oven to 200 ° c. Roll out your short crust pastry so it is thinner than a pound coin. Cut out 8 x 9 cm circles of pastry for the base of your pies. Then cut out 8 x 7 cm discs for the tops. You may need to re-roll the pastry to do this.
Brush the tin moulds with a little oil before pushing the base circle into the muffin tray.
Put a table spoon of the ham hock into the base of each pie, you want it to be about ½ full.
On top of the ham hock add a layer of Castle MacLellan Duck Pâté, use about 1 tbsp on each pie. Then spoon the same amount of chutney onto the top. Ideal chutney to use in this pie would be an apple based one. We used apple and cider.
Brush the outer edge with milk/egg and add a pastry lid. Pinch the sides to seal and make a small hole in the top. Cook for 20 – 25 minutes or until the top is golden brown.
For a chicken pie, simply follow the same recipe but use Castle MacLellan's Chicken Pâté with Scottish Heather Honey instead
of their Duck Pâté.