New Contemporaries
---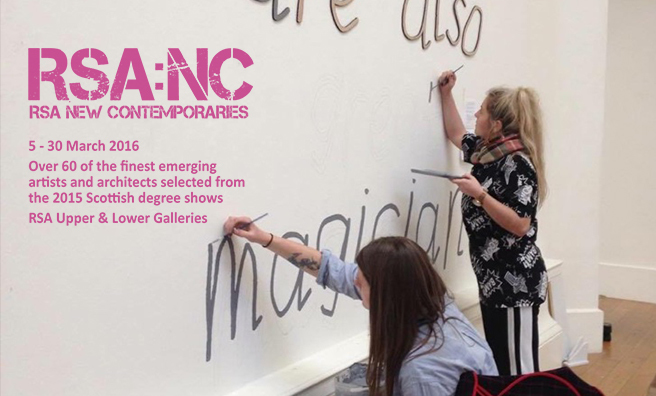 Providing a platform for emerging artists
The Royal Scottish Academy New Contemporaries 2016 exhibition, which runs from March 5-30 and is supported by Walter Scott and Partners Limited, will showcase the work of 61 graduates from 2015 degree shows, featuring a wonderful array of painting, sculpture, film making, photography, printmaking architecture and installation.
The selection was chosen by exhibition convener Stuart Mackenzie with assistance from fellow academics and representatives from the five main colleges of art.
With £40,000 worth of monetary, residency, studio and purchase prizes, this exhibition is an important initiative for emerging artists in Scotland, and is open to the public.
Our photos show Allyson Fraser, graduate from Duncan of Jordanstone, Dundee, putting the finishing touches to her display.
EXHIBITING ARTISTS
Duncan of Jordanstone College of Art & Design
Amanda Adam, Amy Bertram, Allyson Fraser, Robbie Grey, Michael Hunter, Koren Heydon-Dumbleton, David Evan Mackay, Fiona Morag Mckinnon, Lucie Rachel, Corey Reid, Bobby Sinclair, Sarah Smart, Struan Teague, Joletta  Thorburn, Guy Titterington
Edinburgh College of Art
Scott Baxter, Emily Binks, Alice Chandler, Mairead Keating, Alan Trashmouth Records, Lydia, McGinley, Yolanda McKean, Daryl Shaw McKee, Emma Price, Iona Roberts, Jess Rotherham, William Spendlove, Olivia Turner, Hamish Young,
University of Highlands & Islands
Lorna Syme, Anna Clark
Glasgow School of Art
Euphrosyne Andrews, Leo Arnold, Michael Barr, Megan Leal Causton, Miriam Chefrad, John Farrell, Rosanna Lee, Jamie Limond, George Ridgway, Bryony Rose, Josephine Sweeney, Sebastian Tay, Felix Welch, Thomas Woods, Louise Worrall
Gray's School of Art
Emily Hill, Gemma Jamieson, Rebecca Moffat, JenniMurison, Hannah Murray, Laura Porteous, Veronika Pristoupiloa, Tako Taal
Mackintosh School of Architecture
Aoibhin McGinley, Ronan Morris
The Edinburgh School of Architecture and Landscape Architecture
Marcus Angus Rothnie, Marshall Inglis
Duncan of Jordanstone College of Art & Design, Architecture
James Basey
University of Strathclyde, Architecture
Christine Halliday
The Scott Sutherland School of Architecture & Built Environment
Jill Marks
---
Opening Times
Monday to Saturday 10am – 5pm
Sundays 12pm – 5pm
RSA Upper & Lower Galleries
More information here