Oban Live – The Evolution Of Scottish Sound
---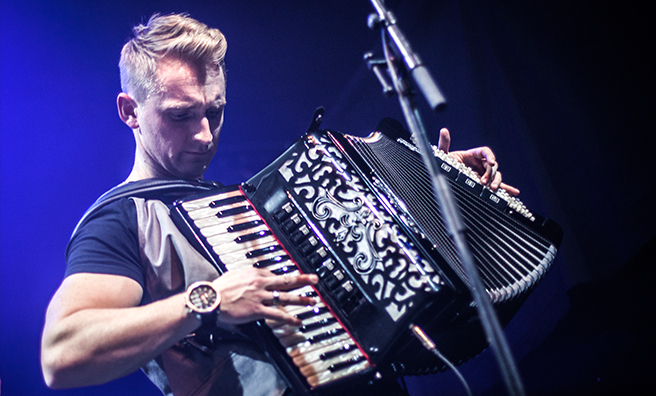 The first ever Oban Live takes place later this month, and organiser Daniel Gillespie of Skerryvore has high hopes for the West Coast festival.
The two-day open air concert at Mossfield Stadium on May 13 and 14 promises to be a fantastic showcase of Celtic music over the years.
It was inspired by Skerryvore's 2015 Decade extended concert, which featured some of the band's favourite tracks since they formed in 2005, with special guests and a festival atmosphere.
The concert's reception made it clear that there was a huge appetite for Celtic concerts on a larger-scale in Oban and the idea was born to expand Decade into the 2-day event, Oban Live, celebrating not just Skerryvore's music, but of the evolution of Scottish music as a whole.
Generations of Sounds and Influence
"The legendary acts such as Capercaillie, Wolfstone and Phil Cunningham & Aly Bain alongside many of the acts that they inspired, such as Julie Fowlis and Skipinnish will be a fantastic showcase of how the sound of Scotland has evolved over generations," Daniel told us.
"Creating the largest outdoor concert in the region has been a huge challenge but we believe Oban and the west coast has huge potential for an event of this size."
The Skerryvore accordionist wanted to celebrate the Celtic and Hebridean sound that he and his brother Martin, also in Skerryvore, grew up with on Tiree, which continues to shape their music today.
"It is a sound that has evolved and changed over generations yet the Hebridean roots still remain…
"There are so many fantastic musicians that have come from the west coast that have gone on to perform worldwide in grand halls and festivals, but all will still have such a great appreciation of the island environment where they first developed their music and this will always remain part of their sound."
The appetite for Hebridean music isn't limited to the west coast either – Daniel has toured the globe with Skerryvore and says the reception overseas, especially in the US, has been incredibly positive.
"I think it is Scotland as a whole that appeals so much. People are so interested in the history and culture – and the music is obviously such a key part of that. There is the obvious appeal of bagpipes and tartan, two elements that are sometimes perceived in a negative stereotype with regards to music at home, yet have such great appeal worldwide.
The New Fusion of Scottish Music
"I think changing this stereotype and presenting our fusion of Scottish music is something that has always been a driving motivation for Skerryvore.
"It will take time to develop but we hope that Oban Live can become one of the key events on the Scottish calendar that will continue to attract people from all over the world to visit."
---
Tickets
Oban Live takes place
across May 13 & 14.
For line-up information
and tickets click here.