Pop-up Opera 2019 – Becoming Buddies
---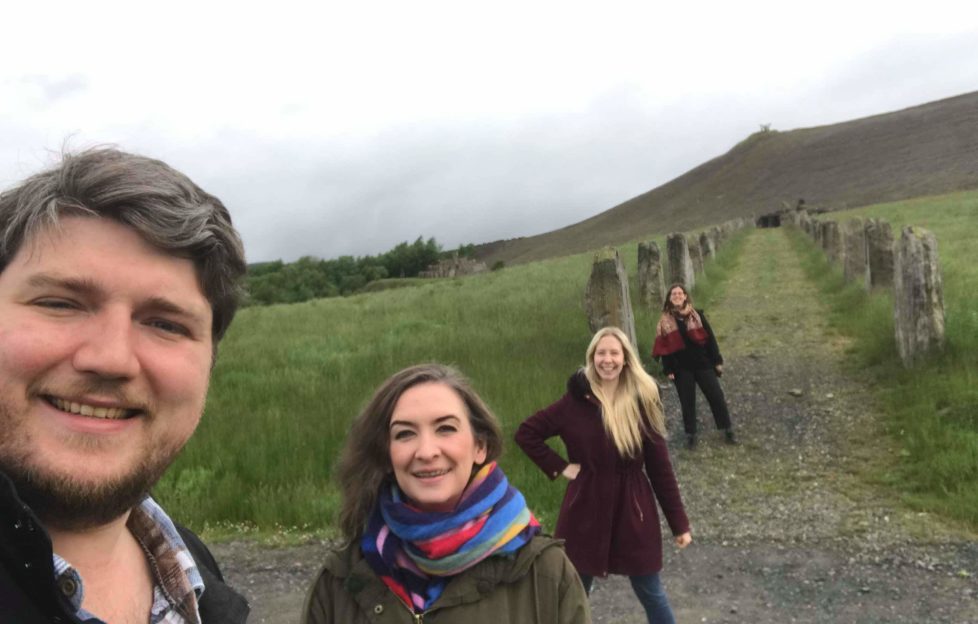 Aidan, Gwen, Charlotte and I at Crawick Multiverse
Tour Dates
June 5-6 - Gavinburn Primary School, Old Kilpatrick
June 7 - Cowan Park, Barrhead
June 8 - Rouken Glen Park, Giffnock
June 12-14 - Borders Book Festival, Melrose
June 15-16 - Archerfield Walled Garden, North Berwick
June 22 - McLaren Leisure Centre, Callander
June 23 - Fluthers Car Park, Cupar
June 25 - Banff Primary School, Banff
June 27 - Aboyne & Deeside Festival, Aboyne
June 29 - Haddington Show, East Fortune
July 20 - Scottish Canal Festival, Glasgow
Credit: Pop-up Opera will be on the road until 21 July 2019. For full details and tickets, go to the Scottish Opera website.
Pop-up Opera 2019

has hit the road again with three new sing-tastic shows! Keep up with the cast in this new series of behind-the-scenes blogs. The second diary entry comes from flutist, Laura Cioffi
ONE of the most amazing comments that we got during our second week on tour with Pop-up Opera 2019, was that 'stepping into the trailer was like walking through the wardrobe into Narnia.'
Funnily enough, as a performer, it sometimes feels like the opposite.
The trailer itself remains the same, but every time we step outside, we are in a different place – from the enchanting surroundings of Broomhall House, to the hustle and bustle of Gretna Gateway Outlet Village.
This can be momentarily disorienting, especially during weeks where we perform in a different location every day.
Upgrade!
With every different venue we visit comes a different green room. In Broomhall House we were given a last minute upgrade by Lord Bruce himself to one of the royal bedrooms, which made for some very Instagram-worthy shots!
Meanwhile, in Gretna Gateway Outlet Village we had an entire empty shop, which, rather unsurprisingly, had the most fantastic acoustics!
Getting To Know Each Other
In Port Logan and Crawick Multiverse, our green room was the great outdoors! While we were missing a bit of privacy, we went on some fantastic walks and the company was quite a-moo-sing.
The intimacy of the space has meant that we've all become accustomed to each other's warm ups and pre-performance routines.
It has been fascinating talking to each performer about how we cope with performance nerves, and how to get the optimum sound for a performance, whether it's before 9am or after 7pm in the evening (hint: coffee).
Charlotte Hoather, one of our two sopranos on tour, starts every morning with yoga, as she feels that she needs less time warming up vocally if her whole body has been warmed up.
She then goes through some gentle lip buzzes and 'stretches' her voice, after which she will sing bits of her solo arias to mentally get into the next show.
Even More Rituals
Soprano Jessica Leary's vocal routine is fairly similar, except it also involves sipping a large skinny iced-latte throughout the day!
Aidan Edwards, our baritone, has a slightly different approach. He has three very wordy numbers – Monostatos's Aria in A Little Bit of The Magic Flute, and 'When I Went To the Bar' and The Nightmare Aria in A Little Bit of Iolanthe. He starts by half-singing these arias in their entirety, sottovoce, to get the words out of the way before starting on his vocal warm up.
Lip Buzzes
Our narrator Ross Stenhouse's method involves lip buzzes and taking time alone to get into character.
Sharron Griffiths and Gwen Yorke Sinclair, our two harpists, will generally spend the time unpacking the harp from its travel box and tuning all the strings. Harp strings are made out of gut and can be very susceptible to any change in temperature, meaning that taking the time to tune them before each performance is essential.
Our accordion player Lizy Stirrat's warm up method involves playing through the opening few bars of all the numbers, making sure that all her pages are in order and reminding herself of "how it goes". After that she will improvise or play folk and pop tunes on the accordion, until the audiences start coming in.
My Own Style
As for me, I tend to play a few long notes, harmonics and multiphonics, but I won't play anything from the show we are about to perform. I sometimes visually remind myself of the notes for the flute solo during A Little Bit of The Magic Flute, which I perform from the front of the stage and without my score, to try and minimize the opportunity for memory lapses or improvisation.
Other than that, my scores stay closed until I am about to play. I find that the more time I spend looking at music just before a show starts, the more likely I am to get myself in a tizzy.
In between shows, as well as going for walks, we sometimes sight read through music together. Aidan took that sneaky snap of Gwen, Charlotte and I trying a little ditty by Saint-Saëns, originally written for soprano, flute and piano… and now harp. I am looking forward to trying out other repertoire while on the road. Who knows, maybe we might present a post-tour recital!
Pop-up Opera will be on the road until 21 July 2019.
For full details and ticket bookings, go to the Scottish Opera website.
Read soprano, Charlotte Hoather's blog from last week here>>