Refuel In Edinburgh
---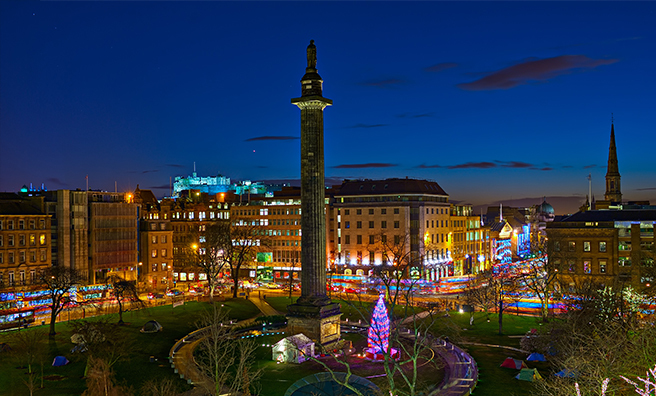 There are few places more magical than Edinburgh for a festive day out, and here are our tips on where to go to escape the crowds of shoppers!
Scotland's capital makes for an enchanting sight in the early winter evenings, with its tall Gothic buildings set against the night's sky and the twinkle of fairy lights – all through Princes Street Gardens down to the bottom of the Royal Mile, and all along George Street to St Andrew's Square.
With Edinburgh's Christmas events spread evenly across the city centre, it's a great time of year to visit and do a spot of Christmas shopping followed by some eating and drinking.
Here are some of the best festive spots to check out and escape the madding crowds without leaving the city centre.
Arrive into Edinburgh at Waverley, then head up and out onto the east end of Princes Street. Fancy a coffee to get you going? Well, you're in luck, becaus you're right next to The Balmoral!
An imposing building in any location, but from this angle with Arthur's Seat and Salisbury Crags behind it's a truly awesome sight. Pass the opulently decorated Christmas tree in the lobby and head into the chic and sophisticated Palm Court for Afternoon Tea prepared by Scotland's leading, award winning pastry chef, Ross Sneddon.
If you're looking for something a little stronger, however, look no further than across the road then to The Voodoo Rooms, an eclectic cabaret venue for some cocktails!
It's about time we actually start doing some shopping so we'll start our way west, along the department stores on Princes Street and through the romantic alleyways of Rose Street.
For a lunchtime pit stop try The Rosehip – booking advised! This quirky little spot is perfect for the whole family with delicious daily specials and a Scottish craft gin selection to properly refuel in Edinburgh. Further off the beaten track and we find the type of bar you associate with Edinburgh – low ceilings, with wafts of whisky and wood, and a fire going nicely in the hearth. The Cambridge Bar is a departure from the bright lights of Princes Street Gardens, but just as festive.
Away from the hustle and bustle of the main shopping streets, Edinburgh has trove of small boutiques where you can find some truly unique gifts.
And for a "wee breather" on the west side of Princes Street, try The Voyage of Buck. New to the west end this year, it's an intimate cocktail bar with a glamorous art-deco interior and an award winning team steering the bar.
If you choose to head north towards Stockbridge, one of Edinburgh's most famous independent shopping districts then you'll be greeted by the warm lights of Hamilton's with its annual Christmas decorations. Family and dog friendly, Hamilton's winter menu can be enjoyed languished across their selection of leather sofas – ideal for recharging the batteries.
It's almost time to head home, but before we do there's just enough time to pop down the Royal Mile for some classic Scottish gifts. A wealth of whisky shops, Scottish cashmere and even fudge – there's something for everyone.
Before you set off down the hill make sure you pop into Whiski for a dram and a dance to ward off the winter chill. Further down the hill, too, is award winning local's favourite Wedgwood the Restaurant. If you're here during the day they offer a fixed lunch menu with some contemporary Christmas classics, and an even larger selection in the evenings.
Bellies and bags full and there is still so much more to explore in this wonderful city. Best stay a couple of nights just to be safe!
And where better than award winning boutique residence, Millers64 just off the city's Leith Walk – for some famous Scottish warmth and hospitality to round off the trip?
---
Any more?
Do you have any favourite Edinburgh haunts? Let us know on Facebook, Twitter, or in the comments!