Rosalind Coad – A Rising Opera Star
---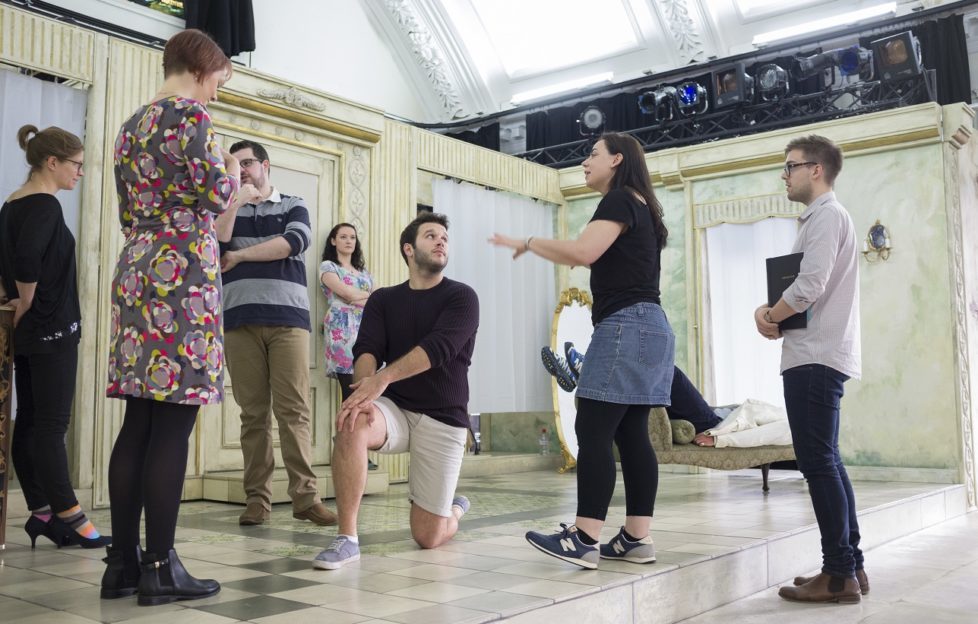 Rehearsal for Scottish Opera's 2015 production of Cosi Fan Tutte.
Head-hunted by the Scottish Opera for their emerging artist scheme, and now one of the leading ladies in Cosi fan Tutte, Rosalind Coad is a rising star in the opera world
Rosalind has been singing as long as she can remember – when your dad sings in the chorus at Covent Garden, and your mum teaches piano, music becomes almost second nature.
"You could say I'm from quite a musical family, yes! I just fell in love with it, really. I started singing in choirs as a child, started lessons at thirteen and went to study at Music College in London at nineteen. That's it really – I've been singing ever since!"
And now, at 30, Rosalind is touring with Scottish Opera, playing a character she loves – Fiordiligi, one of the two leading ladies in Cosi fan Tutte, directed by Lissa Lorenzo.
"She's a wonderful character to play. It's very multi-faceted; she's a very conflicted character, which isn't necessarily that usual in Opera. Sometimes female characters can be a bit one dimensional, but she's one of the interesting female characters! It's a really fantastic show."
 "battling between her heart and her sense of duty"
Having understudied for the role for Garsington Opera over the summer, Rosalind came to Scottish Opera with prior knowledge of the performance and her role, and this has opened her eyes to the different style of performance that can be taken by the director.
"It was nice to have a bit of background coming in on the first day and then to have new things added to that character by a new director. I feel like Lissa has a particular feminine understanding of the role.
"Fiordiligi is someone who is really battling between her heart and her sense of duty – she feels very much that she should do what she knows to be right – or what she believes to be right – which is to stay with Guglielmo and be faithful to him, yet halfway through the Opera she has this amazing sexual awakening where she feels things for Fernando that she didn't really realise she was capable of. That's the crutch of her conflict really and to have that from a woman's perspective is quite nice really. For me, that was something I really understood."
A Whirlwind Tour
The nineteen-stop tour doesn't stay anywhere for long, but Rosalind is really looking forward is to see a bit more of the Scottish scenery – though most of it will be through the windows of the tour bus!
"We do have a couple of days off here and there. A day off in Ullapool – which I've heard is nice. I'm really looking forward to going to Orkney, too – it's the furthest North I'll have ever been! I've been to Inverness before and I liked that a lot so I'm looking forward to going back to there as well.
"Mainly I'm just looking forward to seeing a lot of the countryside and some nice country walks hopefully to see the scenery."
You can read how Rosie gets on with her tour of Scotland, through her updates from the road, here.
Check back on Thursday, October 1, for her first update on opening night and the first stages of the tour.
---
Cosi Fan Tutte
To find out more about the opera and the rest of the cast, or to find a venue near you, click here.