Sculptures in the Sand
---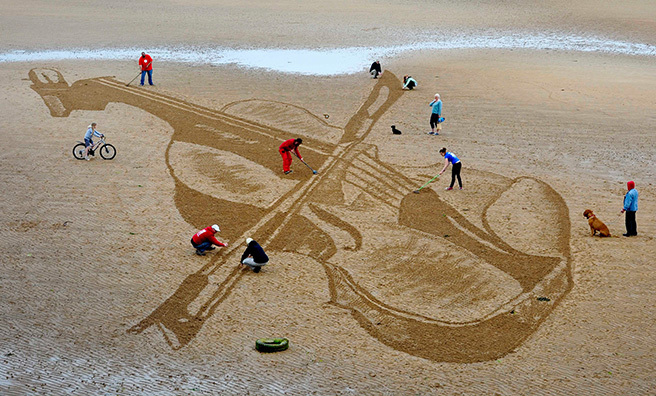 For the past six years these incredible sand sculptures and drawings have been a highlight of the East Neuk Festival…
From steam trains and pilgrim ships, to a bust of Beethoven and a replica of the Isle of May, sand sculptures have been gracing Crail's High Street for six consecutive years now – but who are the mysterious sculptors?
The ingeniously-titled Sand In Your Eye is the group of craftsmen behind the installations, and armed with nothing but buckets and spades, brushes and a tonne of sand they are capable of creating the most incredible and lifelike installations.
"People can watch a sculpture emerge from simple grains of sand."
Based in Yorkshire, the group, led by owner and artistic director, Jamie Wardley, create all their sculptures on site so that the public can watch the finished piece take form.
"Sand sculptures are wonderful to make," Jamie said. "People can see the creative process and challenges over the course of days and watch a sculpture emerge from simple grains of sand."
It doesn't stop there, either – Sand Drawing is another of the group's fortes, and earlier this year they sketched out a giant violin on Elie Beach, images of which were shared worldwide:
'@sandinyoureye created a violin on Elie beach, Fife today to celebrate start of @eastneukfest http://t.co/QEECjHHooG pic.twitter.com/3zMeMzIpZo

— Creative Scotland (@CreativeScots) June 29, 2015
East Neuk Festival's artistic director, Svend Brown couldn't be happier with the projects:
"Working with Sand in your Eye over the years has been brilliant because they are superb at what they do – and every year we have a great time working up the designs and subjects for the sculptures and drawings."
The East Neuk boasts some of Scotland's loveliest beaches, and it seemed only natural to celebrate them with sand art, encouraging visitors to take a stroll along the shores.
Last year's sand drawing in particular had to be seen to be believed. Have a look at the video below for a bird's eye view:
The sculptures have confirmed that they will be back at the East Neuk Festival next year, and we can't even begin to imagine what they'll create next!
---
Find out more . . .
Click through to the Sand In Your Eye website for workshops and more: