Scallops With Asian Cucumber Relish Recipe
---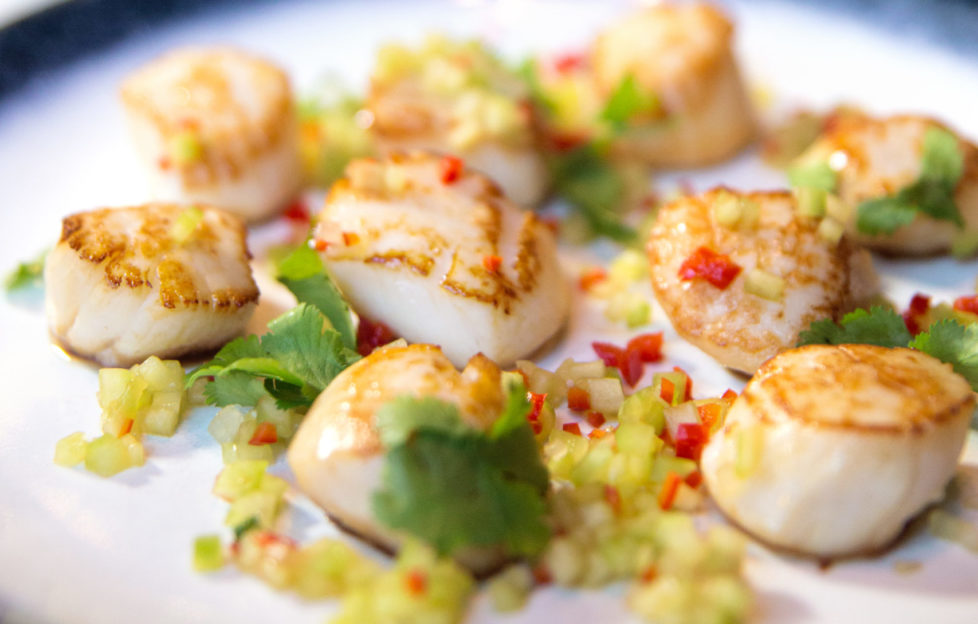 INGREDIENTS
1 cucumber, skin and seeds removed
2 tbsp light soy sauce
1 tbsp fish sauce
3 tbsp fresh lime juice
2 tbsp caster sugar
1 large red chilli, very finely diced
½ small shallot, very finely diced
Handful of fresh coriander leaves
6 scallops, washed and patted dry
Unsalted butter
METHOD
In a small saucepan heat the soy sauce, lime juice, water and sugar until dissolved.
Remove from the heat and allow to cool in the pan.
Add the chilli, shallot and coriander and mix slowly.
Very finely chop the cucumber and add to the sauce, making sure it is fully coated.
Set this aside in the fridge while you cook the scallops.
In a shallow frying pan add a little butter and some extra virgin olive oil – just enough to coat the pan.
When it's hot sear the scallops and turn them over when golden.
Cook for another minute as you don't want the meat to go tough. You can add a little extra butter and baste the scallops as you wish.
Serve immediately with this very refreshing cucumber relish.
Credit: Credit: Carina Contini is owner of Contini George Street; Cannonball Restaurant & bar; and The Scottish Cafe & Restaurant, all in Edinburgh.
Your star chef discovers a love of seafood unites locals and international visitors…
I'm a sucker for shellfish. Mussels, lobsters, prawns, clams, scallops. If they appear on a menu, I'm in. Although oysters I'll leave for Victor. I've never been a fan.
I met Chinese-American chef Ken Hom about 20 years ago. What an amazing man and one who played a massive part in bringing Chinese, and later Thai, cooking to our homes in Scotland and all around the world.
It wasn't until the 1950s that Chinese restaurants opened in the UK and later still until we could get the ingredients in Chinese supermarkets and speciality stores to cook the food ourselves.
Unlike even a few years ago, today we cater for vast numbers of international visitors with more and more coming from
East Asia. Our restaurant Cannonball has an active role in the Edinburgh Tourism Action Group's "China Ready" group, welcoming our new Chinese visitors.
One thing they all have in common is a love of our Scottish shellfish. We have an Oyster Happy Hour at the Cannonball between 3pm and 5pm from Tuesday to Saturday, and we get loads of visitors leaving the Castle and heading in for a late afternoon pick-me-up.
Shellfish lovers also have the chance to get stuck into delicious Cumbrae and Isle of Mull Oysters from the west coast of Scotland, as well as Lindisfarne Oysters from the east coast.
All of Cannonball's oysters are served fresh from the shell or can be served with Roman sauce, red wine vinegar and shallot dressing or lemon and hot chilli sauce. For something extra special, they can also be served Kilpatrick-style with Isle of Mull cheddar, Worcester sauce and crispy bacon.
We have another seafood connection at Cannonball. The restaurant is situated on the site of a 16th-century townhouse at the top of Edinburgh's Royal Mile. Amazingly, the building's foundations are packed with discarded oyster shells – fast-food wrappers from days gone by.