Scotland's Treasured Tastes
---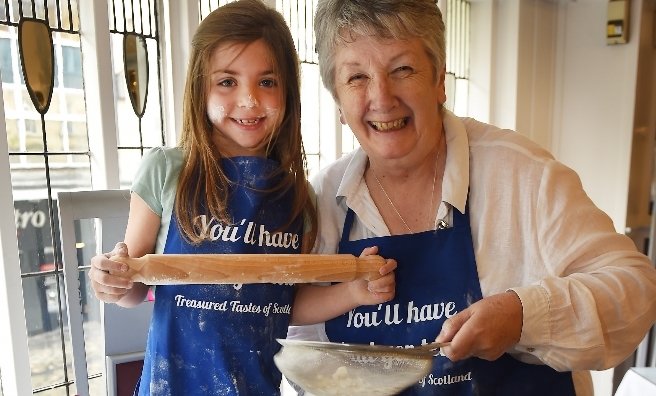 Darcey Burnham (7) from Troon with Shirley at the launch of Treasured Tastes of Scotland
VisitScotland's national appeal to uncover Scotland's Treasured Tastes has been launched by celebrated Scottish chef and food enthusiast, Shirley Spear.
""We all have these food memories that instantly transport us back to a precious time in our lives," said Shirley Spear. "'Treasured Tastes of Scotland' will provide a voice for these recipes and the stories behind them from all over the country so that people both now and in the future are inspired to visit Scotland and sample its amazing local produce.
"I'm very much looking forward to reading the entries and hope that as many people as possible will take part in this nationwide search."
Whether it's a plate of Granny Mary's mince and tatties devoured after a game of hide and seek in her Glasgow tenement; or a comforting bowl of Uncle Jim's Scotch broth following a bracing walk along the Fife coast – VisitScotland wants to highlight the places and people behind the country's favourite family meals and recipes handed-down through the generations.
'You'll have had yer tea?'
As a lasting legacy of the Year of Food and Drink 2015, a special number of the delicious memories will be compiled into a unique one-off recipe book entitled 'You'll have had yer tea? – Treasured Tastes of Scotland'.
The book, due to be published later in year, will take readers on a culinary journey from the shores of Shetland all the way down to the rolling hills of the Scottish Borders. As well as showcasing traditional food and drink, the book will help shine a light on the personal stories behind family recipes, inspiring readers to revive some great home-cooking as well as encouraging them to come and sample Scotland's wonderful natural larder.
'Spending time with my mum, baking jam tarts and fairy cakes'
"Some of my most cherished memories are of spending time with my mum, baking jam tarts and fairy cakes, followed years later with teaching my own children how to cook simple, basic things at home and making the most of seasonal ingredients such as gooseberries and rhubarb from the garden and turning them into delicious treats," continued Shirley, who is the owner of the renowned restaurant, The Three Chimneys in Skye.
"Now I hope to pass on stories about where our all our delicious ingredients come from to my gorgeous grandchildren."
Malcolm Roughead, Chief Executive of VisitScotland revealed that his personal favourite meal is his mum's stovies. "I can still remember the smell of the stovies, made with fresh lamb from Stirling market, bubbling away on the stove in our kitchen in Stenhousemuir. It instantly takes me back to Saturday dinner after we'd spent the afternoon watching the football."
Recipes must be submitted along the story about the location or circumstances behind the meal. Entries can be sent either online on the dedicated webpage or by post. All entries will be placed in a prize draw to win a one-night B&B stay for two at the Three Chimneys and The House Over-By in Skye, which includes dinner at the Kitchen Table at the award-winning restaurant, where diners can watch the Three Chimneys' chefs at work during a busy night's service.
Entries can be submitted until July 3, 2015. For more information or to submit a Treasured Taste, click here.
---
My Treasured Tastes
"Breaded haddock fresh from the fish van and home-made chips at my Gran and Granddad's house in Newport-on-Tay, Fife, when I was a kid in the 1980s. My grandparents' house had an incredible view across the Tay Estuary towards Dundee, taking in the railway bridge and the stumps of the original structure. Delicious, fresh food, a captivating view and a history lesson all in the space of a happy family mealtime. It brings back memories of carefree childhood holidays and my grandparents who are no longer with us."
Tom, East Lothian
---
My Treasured Tastes
"Boxing Day – my birthday – always reminds me of the wonderful cloutie dumpling my mum, Molly, used to make every year for me instead of a birthday cake.
"Unlike any other cloutie dumpling I've ever tasted, Mum's didn't include suet so wasn't at all heavy. It was a rich, spicy fruit sponge which smelled wonderful coming hot from the old Raeburn in our farm kitchen.
"Mum used to wrap up silver sixpenny pieces in greaseproof paper and put them into the mixture, so looking for the hidden surprises in the dumpling was a big part of the enjoyment and fun, not only for me but for my brother and sister.
"These days, without Molly's Cloutie Dumpling on the menu, birthdays have lost a huge amount of their charm."
Ellen, Ayrshire