Scottish Bookshelf – Wildflower And Gardening Books
---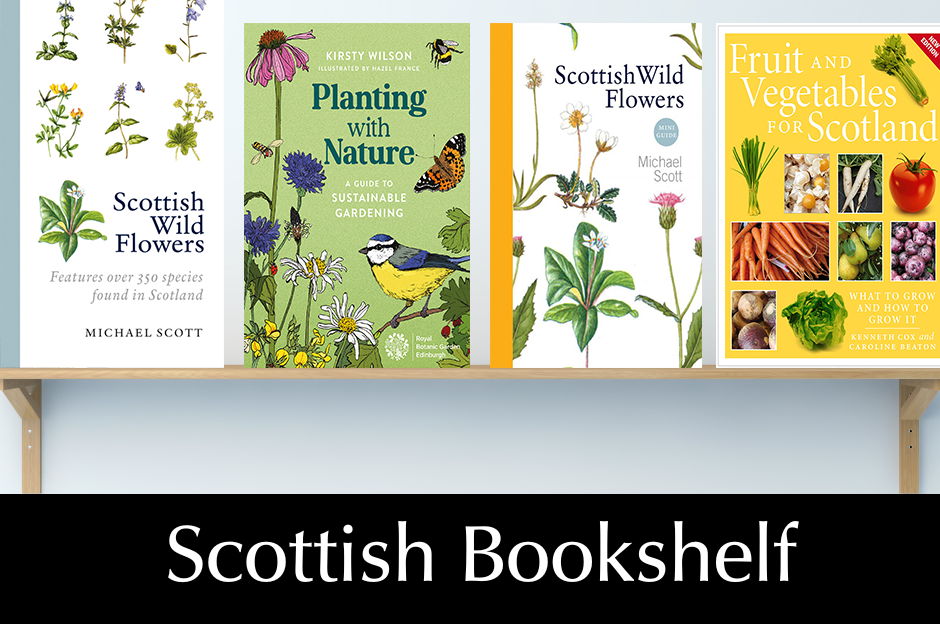 Discover a library of plant knowledge specific to Scotland with our nature-themed bookshelf…
Browse a selection of green-fingered reads including wildflower identification guides, gardening hack books and food growing references for Scotland.
---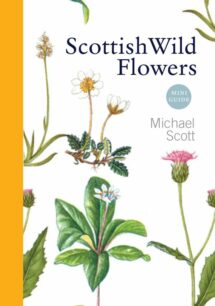 Scottish Wild Flowers (available as full guide and mini guide)
Michael Scott
Birlinn
£9.99/£5.99
This beautifully illustrated in full colour guide created in association with Plantlife Scotland will introduce you to over 350 species of wild flower in Scotland! And the Pocket Edition, is an ideal size for carrying when you're out and about.
I especially love the handy indexing of the book through colour co-ordinated chapters, including 'Plants Around People', Plants of Grasslands and Meadows' and 'Plants of the Coast. This grouping of plants based on where they can be found is super helpful on-the-go, and within each chapter is a fascinating wealth of wild flowers for you to search and identify. I haven't come across any wildflower yet that this book couldn't help me name.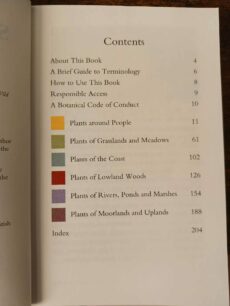 Each species is perfectly illustrated and comes with a comprehensive description, plus the plant's English, Latin and Gaelic names. The initial terminology guide and geographical reference explanation is also super helpful as a beginner to plant identifying. I felt fully educated on my discoveries.
Overall, a great resource that I will be sharing with friends who also express an interest.
Hannah McLaren
---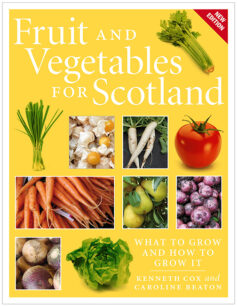 Fruit And Vegetables For Scotland
Kenneth Cox and Caroline Beaton
Birlinn
£20.00
This award-winning book doesn't just provide key information about fruit and veg that can be grown in Scotland, it also feeds into the history of traditional growing practices and shares with the reader more modern day solutions. Expect to learn the best techniques for growing produce in all areas and elements – from gardens and allotments to patios and window boxes. This book puts practicality first and is a comprehensive learning tool, ensuring your garden will flourish.
In addition to advice on climate and soil conditions, it has contacts for handy organisations, specialist societies, nurseries and suppliers, plus a detailed bibliography and list of useful websites.
---
Planting With Nature A Guide To Sustainable Gardening
Kirsty Wilson & illustrated by Hazel France
Birlinn
£14.99
This books aims to reintroduce wildlife back to agricultural and gardening practices, maintaining a balanced ecosystem in you own mini wilderness – your garden. If you want to support local wildlife, improve our health and help tackle the climate crisis, this book is for you!
This carefully illustrated a practical guide covers key conservation areas such as planting nectar-rich borders, native hedgerows, trees and wildflower meadows to creating rain gardens, green roofs and ponds. Advice on how to provide shelter and safe homes for any visitors is also included.
 plus a section of expert advice on sustainable gardening approaches to fruit and vegetable production, making compost and the propagation of new plant.
---
Subscribe to The Scots Magazine for more book reviews and all the latest author interviews CLICK HERE