A Sensorial Submersion review!
---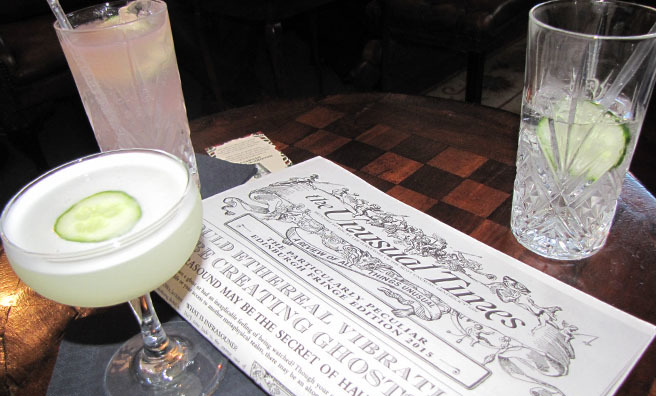 Calling all gin lovers: Hendrick's Emporium of Sensorial Submersion is a truly immersive experience
In Fringe season, Edinburgh is full of stalls, pop-up restaurants and drink venues, but Hendrick's Emporium of Sensorial Submersion is far from your average promotional pop-up.
91 George Street has been transformed into a vintage Victorian entrance hall, bar and reception, complete with gramophones, a player piano and the odd stuffed bear wearing a fez.
Most unusual cocktails
The bar is stocked with Hendricks gin for imaginative cocktails invented by local mixologists, which take the Hendrick's "most unusual" tagline to new heights. One of the cocktails that I tried (see Tweet) had ingredients that included thai chilli drops and egg white – unusually delicious.
It's a great place to unwind after a show, in itself, but for the more adventurous, the Soundscape tour will take you on a journey of the senses.
World-leading sound artist Mark IJzerman from the HKU University of the Arts Utrecht, has unpacked each atom of Hendrick's to create a programme of mind-expanding diversions that fully focusses the senses for the cocktail drinking experience.
Musical martini glasses and test tube experiments
There are five rooms of sensory delights, beginning with the reception, where your dapper guide introduces the concept of sensory perception (and fetches you a G&T).
Next up is the Quietest Bar On Earth donned entirely in white, where earphones block out the noise of the day and make the dry martini all the tastier, before you are ushered into a chemistry classroom to test the difference between three test tubes of Hendrick's mixtures.
I pride myself on being a bit of a gin connoisseur, and was jotting down my findings quite confidently, but the test results were not quite what I expected. I won't spoil it here – you'll have to take part to find out!
The next room explored what a cocktail would sound like if you could hear it, using metal martini glasses to conduct and amplify a charge running through them. Touching the glasses created different notes and soon we had a harmony going – until the contents of the glasses proved too tempting, that is.
A little relaxation
By this time most of us were feeling ever so slightly light-headed, but the last room was a welcome retreat.
Entitled the Sonic Cucumber Bath room (read bath for the senses, not water bath), this room was a place of rest and rejuvenation – complete with bamboo head rests… and a gong.
Now, a gong may not sound like the most relaxing of instruments, but Alyssa played in a way that calmed the senses, and washed through our weary muscles. I don't think I fell asleep, but I can't be sure.We were left feeling refreshed and ready to hit the bustling streets of Edinburgh again.
All in all the experience was as fascinating and unusual as one would expect from the purveyors of the "most unusual gin", and one I'd highly recommend to gin lovers (and those yet to be convinced) everywhere.
The complete sensorial package of all five experiences costs £24 (including 5 cocktails), or one experience (inc. cocktail) for £8. The bar is open until August 30, and tickets are available through www.edfringe.com