Six By Nico's 'The Chippie' Menu Returns!
---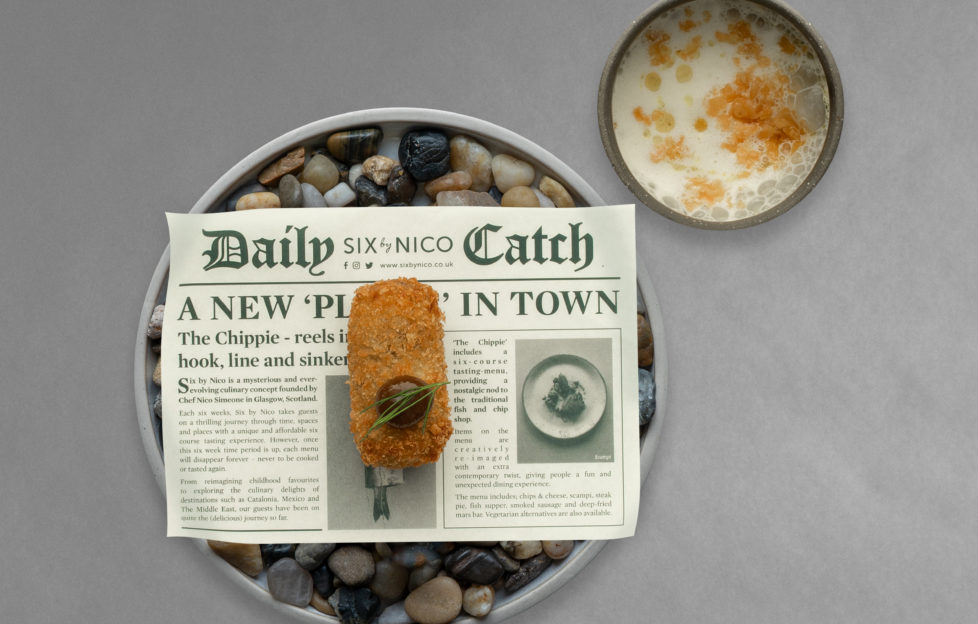 'The Chippie 2.0' menu kickstarts the reopening of Six by Nico dining experiences
Six by Nico restaurants in Glasgow and Edinburgh plan to reopen their doors on Friday July 17, with the much loved menu 'The Chippie'.
The conceptual dining experience, brainchild of Scottish-Italian chef Nico Simeone, presents 'The Chippie 2.0' served in restaurants across the UK.
Following twelve weeks of closure due to the COVID-19 pandemic, the team have now announced reopening. And the eagerly anticipated first six-course menu will be the hugely popular take on a traditional fish and chip shop.
The menu was the first theme introduced to launch the Glasgow Finnieston restaurant in 2017 and Edinburgh City Centre restaurant in 2018. However, the newly refined menu will offer Six by Nico customers old and new a fun and unexpected dining experience.
The Menu!
Dishes on 'The Chippie 2.0' menu include; Chips & Cheese (Parmesan Espuma & Crisp / Curry Oil / Brandade Croquette / Vinegar Powder / Brown Sauce); Scrabster Monkfish (Cheek / Dill Emulsion / Gribiche / Peas / Beurre Blanc); Steak Pie (Speyside Beef Shin / Burnt Onion Ketchup / Mushroom Duxelle / 'Meaty Salsa'); Fish Supper (Shetland Cod / Pickled Mussels / Confit Fennel / Samphire / Beer Emulsion; Smoked Sausage (Trio of Pork / Apple / Black Pudding / Salt Baked Celeriac / Choucroute) and finally back by very popular demand, Deep Fried Mars Bar for dessert (Chocolate Pave / Blood Orange Sorbet / Cocoa Nib).  As always, there will also be a vegetarian option available for each course.
What to expect…
Chef Nico Simeone says, "The Chippie was originally designed to bring a sense of fun & nostalgia. We want to bring those feelings back.
"When we launched our restaurants in Glasgow and Edinburgh, 'The Chippie' was hugely popular. So not only does this mean our existing customers get the opportunity to experience a new version, but it gives us the chance to share it with even more people the second time around."
Restaurants will re-open with a reduced capacity. Glasgow Finnieston will welcome up to 24 guests, Glasgow Southside 22 guests and Edinburgh City 42 guests in one sitting.
Diners can now book a table now for 'The Chippie 2.0'. This menus will run from Friday July 17 – Sunday September 6 2020. Each six-course menu will be available from noon to night, Monday to Sunday. £29 per person and diners will have the option to enjoy an expertly selected wine pairing for an additional £26.
The Six by Nico team continue to work tirelessly behind the scenes to make the dining experience as safe as possible for their team, and customers. With this in mind, the restaurant brand has introduced a new 'Wellbeing Policy' across their restaurants in line with UK government guidelines. Full details can be found at www.sixbynico.co.uk/wellbeing
Bookings are now live. To make a reservation or to find out more, visit www.sixbynico.co.uk/
More businesses are reopening following the ease of lockdown measures across Scotland, such as Bad Girl Bakery >>